Review – ecoSTORE Honey & Almond Shampoo & Conditioner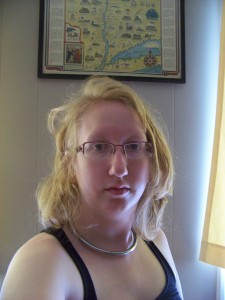 Yep, that's me just rolling out of bed, no coffee, no shower, no makeup….WOW, sorry, now I guess YOU don't need coffee, cause I just scared you awake!
You know how much I adore Eco-Friendly products! The ecoSTORE USA has a nice array of health & beauty products like the Honey & Almond 3-in-1 Shampoo and Conditioner that I received for review.
The Shampoo and Conditioner is Sulfate Free, Paraban Free, has no synthetic perfumes, no dyes, and no toxic petrochemicals, which means it is right up my ally!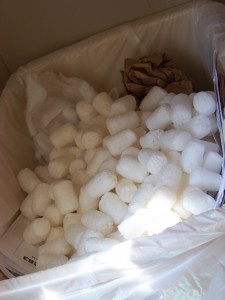 Yep, that is my garbage can, which now contains the packing peanuts that were in the box that held the shampoo and conditioner.
The reason that I took a picture of them was because I just figured they were regular packing peanuts, which honestly is NOT eco-friendly at all. I  frowned when I saw them, I mean, they could have used old newspaper or something….but then I saw the shipping info that was also in the box and noticed that they were NOT just regular packing peanuts! They were Soy Based packing peanuts! All of a sudden I was happy with the company again. Kind of strange what gives off an impression, don't you think?
Thanks for doing that ecoSTORE, that alone made my day! Their products are made in the USA…another plus for them! AND they don't test on animals!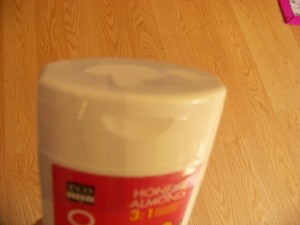 They also used recycled cardboard for the shipping box and a corn based shrink wrap for the top of the bottles, to make sure they didn't leak all over.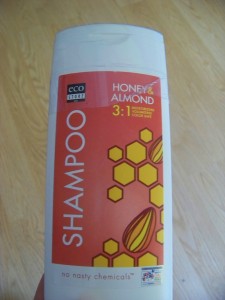 So, I grabbed my new 'poo and took my morning shower. The scent was nice and light. I was hoping for a more intense scent, because I LOVE almond scented body stuff. The almond scent was there, but I did not get any hint of honey.

I did it guys, I TASTED this stuff! All in the name of science! It did have a taste, but not a nasty soapy taste, so if your kids are swearing, you really can't use this to wash their mouth with. It wasn't a pleasant taste, but not unpleasant either, and I really can't put my finger (err…tongue?) on a flavor, but it sure wasn't almond OR honey, lol.
I also rubbed some in my eyes for good measure (totally not lying!) it did have a slight sting, but not a "OMG GET THIS CRAP OUTTA MY EYES NOW OR I'M GONNA GO BLIND" sort of sting, just a dry-eye type feeling. Not too bad, so I think this would be perfectly fine for young children. The sting was gone as soon as I wet my eyes.
The shampoo did not suds up a whole lot, but seemed to clean my hair without needing the suds. My scalp feels clean and my hair feels nice and light.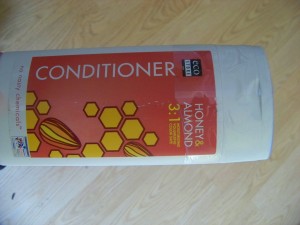 The conditioner has a nice creamy feeling, but not oily, which is good, because it was able to soak into my hair easily, while still giving me a clean look.
The bottle claims that is it 3-in-1 (or 3:1 actually) and that it offers "Moisturizing, Volumizing and it is Color Safe". I really can't comment on the color safe, since this is my natural hair color, and I plan on keeping it that way. However, my hair does feel moisturized, not dry like it normally is, so that is in their favor. The Volumizing, however, does not seem to work for me, but then again, I have NEVER found a Volumizing item (other than hair gel…) that works for me because I just have flat hair.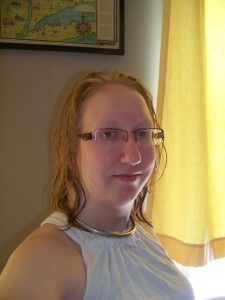 After I got out of the shower, the scent was gone, so it really is just a nice thing for in the shower. I could not smell it in my hair at all once I was out and my hair was dry.
All-in-all, I really like this Shampoo and Conditioner. I do wish that the scent lasted longer though. My main problem was finding a shampoo that was eco-friendly and did a good job of cleaning my hair, since I have naturally oily hair. This stuff works and I really like it. I like that the conditioner leaves my hair feeling soft and easily comb-able, and yes, I know that I totally just made that word up, but it doesn't matter, because YOU understood it!
Want to know what I love BEST about this line? Their price! Yea, I love a frugal deal, and you are getting a 13.5 oz bottle for only $6.50! If your order is at least $25, you will get free shipping too, so make sure to order a few of them!
ecoSTORE USA is more than just hair care products; they also sell eco-friendly baby items, household products, pet care items, and other bath & body stuff. This is a great alternative to chemical filled shampoos and conditioners, and they cost about the same price, if not lower.