South Beach Smoke eCig Review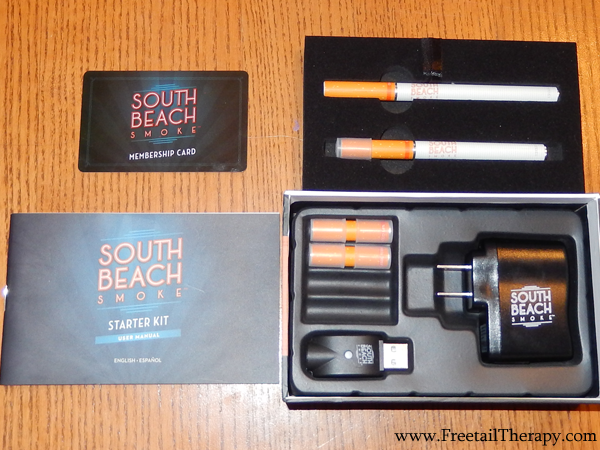 I want to preface this by saying, I am not a smoker, but I used to be. I was what one would call a "social smoker" and only smoked when I was around others who did. I found that when I did smoke, my migraines and stress would go away though, so once in a GREAT while, when I was under a lot of stress, I would smoke a cigarette by myself. I always hated the taste of cigarettes though. When the price of cigarettes went up to $5 a pack, I figured there had to be a cheaper way to manage my stress. Now they are close to $10 a pack and I just have no idea how people afford to live if they smoke.
Thing is, I have found that cigarettes still have the same stress releasing effect on me that they always have, so about once a year I'd bum a cigarette from a friend who smoked. That was always funny, because they were always so shocked by it. I then discovered eCigs! When I would smoke a cigarette, the frugal person in me would have to smoke the whole thing, to avoid waste, but when I vape an eCig, I can just take the 2-3 puffs that I need to calm me down, and not worry about any waste.
South Beach Smoke sent me their Starter Kit to review, and it came with 2 batteries (1 Standard battery and 1 High-Capacity battery), 4 filters, a USB charger and a wall charger, as well as a user manual and a "Membership Card". I actually want to touch on the card for a minute. It is like a credit card in size and thickness, and the back states "Our units product NO second-hand smoke, odor, flame, ash or carbon monoxide. AS SUCH THEY SHOULD NOT BE SUBJECT TO ANY STATE OT FEDERAL "NO SMOKING" LAWS. THE "SMOKE LIKE" VAPOR THAT OUR UNITS EMIT IS NOT SMOKE. The vapor is made up of nicotine, propylene glycol, vegetable glycerin, water and other non-harmful elements such as flavoring. IT'S NOT SMOKING…IT'S VAPING!" The problem with this is that I live in New York, where they just passed an eCig ban. Anywhere that cigarettes are banned, eCigs are also banned, so this card is useless to me.

South Beach Smoke offers many different cartridge flavors, but the starter kit that I received came with "Tobacco" flavor. I probably should have specified that I would rather have something fruity or candy like, than tobacco. It truly smells and tastes like a cigarette, and I don't like that about it. That can easily be remedied though, just order one of their many other available flavors and that problem is solved. If you are trying to quit smoking, you may actually want the tobacco flavor though, as it gives it an authentic feel. My mother is a smoker, so I always have her try my eCigs to give me her thoughts on them, and she asked if she could keep this one, so I gave her one of the batteries and 2 cartridges. The fact that she wanted to keep it, makes me think that it was pretty darn close to a real cigarette.
The batteries on these eCigs have a crystal-like tip with an orange light. When you puff on it, it lights up, and the crystal cut end, makes it look like a real cigarette is burning. I've seen many eCigs before, but never one with a tip that looked so close to a real cigarette.
All-in-all, I am impressed with this Starter Kit, and would recommend it to social smokers and regular smokers alike.
Check back in a few days for a giveaway too!