Homemade Mac & Cheese with Chicken and Broccoli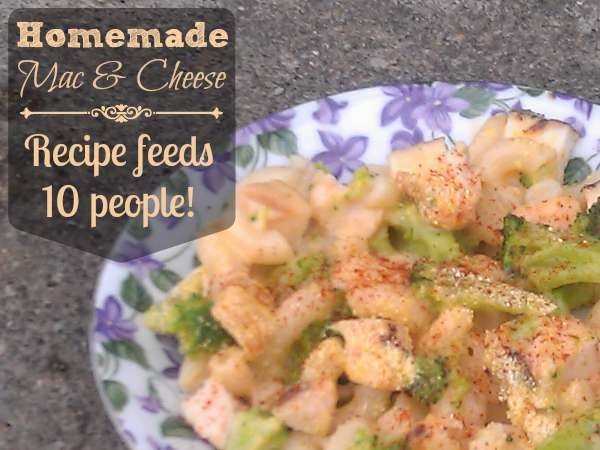 Homemade Mac & Cheese with Chicken and Broccoli
Author:
Prep time:
Cook time:
Total time:
Ingredients
[b]Mac & Cheese Ingredients[/b]
1 ¼ lbs. uncooked elbow macaroni
½ lb. of chopped broccoli
1 lb. boneless chicken breast
5 cups shredded cheddar cheese
1 ¼ cup grated Parmesan cheese
7 ½ cups of milk
1 cup and 2 tbsp. of butter
[b]Topping Ingredients[/b]
2 ¼ cup of all-purpose flour
¼ cup and 1 tbsp. of butter
1 ¼ cups of bread crumbs
Paprika to taste
Instructions
Cook the macaroni as directed on the package.
Cube and fully cook the chicken breasts
Preheat oven to 350 degrees F.
Grab a large saucepan and melt your butter from the first set of ingredients over medium heat.
Slowly add in your milk, stirring constantly.
Stir in your cheeses and keep at low heat until all cheese is melted and has thickened.
Add chicken and broccoli to the cheese mixture.
Place cooked macaroni in a large casserole dish and pour your cheese mixture over it.
Stir to ensure the cheese is evenly spread throughout the macaroni.
Grab your butter from the second set of ingredients and melt over medium heat.
Combine breadcrumbs to butter and brown.
Spread over the macaroni & cheese mixture.
Top with Paprika.
Bake at 350 degrees F for about 30 minutes.