H2w0w liquid flavorings can save money while dining out.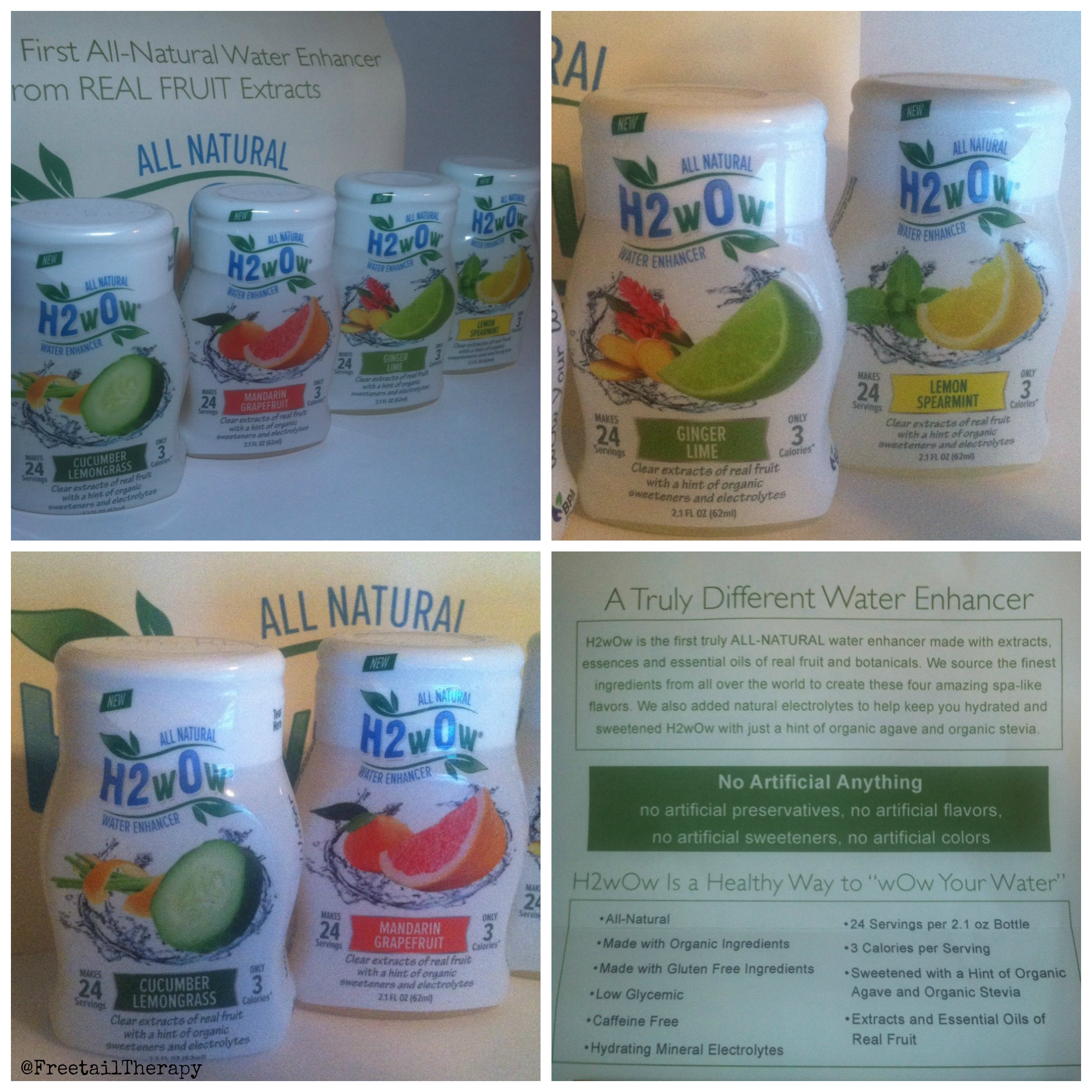 I saw these H2w0w water flavorings and KNEW I had to try them out! I was so excited when they asked me to review them. I felt that it fit perfectly on this site with the direction I am going. I am trying to be more natural and live a healthier lifestyle, but honestly, I don't want to give up a whole lot of convenience either, which is why this really piqued my interest.
H2wOw is the first truly ALL-NATURAL water enhancer made from extracts, essences and essential oils of real fruit and botanicals. H2wOw offers four spa-like flavors: Cucumber Lemongrass, Mandarin Grapefruit, Ginger Lime, and Lemon Spearmint.
We don't eat out often, about once every month or two, but when we do, we always order water to save a little money on the bill. I carry a couple different bottles of flavoring with me so everyone can still have a nice drink. The problem with this is that most brands of flavors are loaded with garbage. Don't get me wrong, the kids love them, and I tolerated them because that's all there ever was. Now, with H2W0W, I can have a healthier option for my water! Plus these keep the water clear, instead of adding artificial colors which may make the servers question our drink choice.
The kids and I went through and tried every flavor, and honestly, the kids hated all of them. Their loss! I am pretty sure the issue is that these aren't sickly sweet, and so they didn't appeal to tiny tongues. Something that I really need to note, before I get into the flavors, is that this isn't like other brands of concentrated flavorings. You aren't going to get that strong taste that you may be used to. They are pretty much the same as naturally infused water, without the hassle of carrying around fruits and veges, light and crisp. I really liked most of them!
Mandarin Grapefruit had a light citrus flavor, nothing spectacular stood out about it, but I was pleased and will absolutely use the whole bottle. Lemon Spearmint probably could have used an extra squirt to get more of a lemon flavor, which didn't stand out much, the spearmint was soothing though. I liked the aftertaste of that, I think it would be great to drink when you have a sore throat.
My only dislike was the Ginger Lime, which no doubt would be great for an upset stomach, but I personally did not like the flavor combo. If it came to drinking to calm my stomach, I would drink it, but it isn't a flavor I would pick just to have a drink.
My absolute favorite was the Cucumber Lemongrass! You can smell the cucumber in it even before you take a sip. It was spa quality for sure! I HATE water, but I will drink more, just so I could add this flavor it it! Draw a nice hot bubble bath and sip this in the tub….and hope the kids don't barge in thirty times each minute. Not only does it taste fantastic, it enticed calming feelings. I need to buy an entire case of just this flavor, and keep a bottle on me at all times. I have gone through a quarter of my bottle just while writing this review and sipping water. I'm telling you, this is a flavor that you NEED!
Here is some info they sent me:
We source the finest ingredients from all over the world (such as cold-pressed South African lime oil and wild-harvested Nepalese lemongrass oil) and add key natural electrolytes to keep you hydrated. Then, we lightly sweeten H2wOw with a hint of organic agave and a touch of organic stevia to create an amazing all-natural water infusion with only 3 calories per serving.

Unlike other water enhancers, H2wOw contains
–No Artificial Colors
–No Artificial Sweeteners
–No Artificial Flavors
–No Artificial Preservatives (no Potassium Sorbate or Sodium Benzoate–so we can be sold in natural channels)

H2wOw is not an overly sweet, "in your face" water enhancer like the mainstream brands on the market. It is light and refreshing and made from real fruit extracts and essential oils. H2wOw is meant to be enjoyed all day, every day so the subtle flavors can compliment your beverage without being overpowering. Think of it as the fruit water you would get in a spa—but in a convenient package that you can carry with you all day.

H2wOw was developed by Alison Tirone–a mom who wanted to get her family to drink more water and have a healthy beverage alternative (more on Ali's story at www.H2wOw.com)

THE CLEAR CHOICE FOR YOUR BUSY LIFESTYLE: H2wOw is CLEAR, clean, refreshing and convenient so you can take it anywhere.

With 24 servings in a 2 oz bottle, H2wOw provides a concentrated formula that is great for your on-the-go lifestyle. You can use it in tap water, sparkling water, bottled water or try flavoring your iced tea to create something special. You can even add H2wOw to alcohol to create a unique and exciting drink- like a cucumber lemongrass or ginger lime martini.

So throw one in your gym bag, keep some on the kitchen counter, bring some to the office and make sure you take it with you to restaurants or anywhere you want to make boring water taste better.

HOW TO USE IT: We like to say "Just Squeeze to Please:" Simply give it a little shake, flip the cap and squeeze a couple of squirts into your water or beverage (1-2 squirts per 8oz of water). With H2wOw you can personalize your beverage to how you like it…a little for a hint of goodness or more for a fuller taste experience.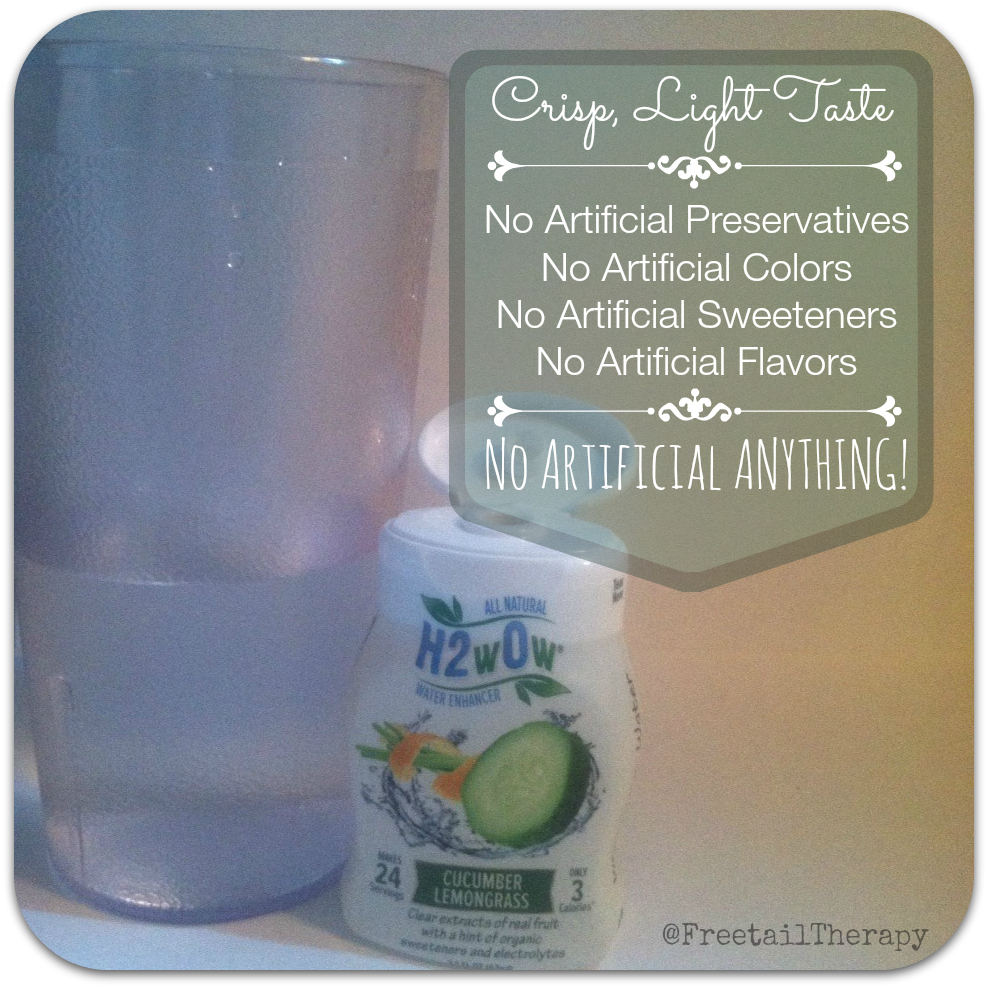 I want to thank H2w0w for letting me try these, they definitely have me hooked, and I hope that you will check them out as well. If this review has interested you, please be kind and head over to their social media links to give them a like or follow, I would greatly appreciate it.
Follow H2w0w