"Duster" Book One of the Mika Bare-Hand Books by Adam Stemple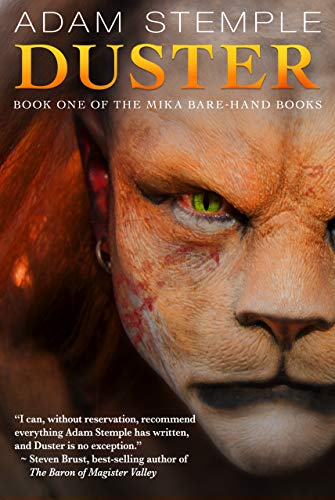 Invaders from the north. A missing son. A conspiracy that spans centuries. And old soldier, Mika, has only a murderous pimp and a treacherous half-breed to help him.
Penned by award-winning author, Adam Stemple, Duster is an epic, page-turning fantasy for readers who like dark, violent adventure with a touch of gallows humor.
An uneasy truce between the four races has lasted for twenty years.

Until now.

The Dusters, a race of cat people from the north, have invaded and now former soldier Mika must make a grim choice: take up the sword again or watch everything he loves burn.

With his old friend from the military, Gair, and a mysterious, half-breed Duster, Mika makes his way from his Northern border home to the southern capital, across the frozen wastes of the Duster homelands, and deep underground where the legendary Gallochs dwell, desperate to unravel the mystery of the invasion and how it's connected to his origin. Hunted by his own kind and unable to trust his companions, he finds that to save his family, he may have to defeat not only the Duster army but the very Gods themselves.
"I can, without reservation, recommend everything Adam Stemple has written, and Duster is no exception." — Steven Brust, best-selling author of The Baron of Magister Valley

"No one writes bastard-son-of-a-bitch characters as brilliantly as Adam Stemple." — Naomi Kritzer, Hugo-Award-winning Author of Catfishing on Catnet
About Adam Stemple
Adam Stemple is an award-winning author, poet, and musician.
Like most authors, his life experience is broad and odd. He spent twenty years on the road with a variety of bands playing for crowds of between 2 and 20,000 people. He started, ran, and sold a poker training site. He worked in a warehouse. He picked corn. He traded options and demoed houses. He drove pizzas for nine months in 1986, which for twenty-seven years was the longest he'd ever been employed. He drank too much and has now been sober for over fifteen years. He published his first book at the age of sixteen, "The Lullaby Songbook," which he arranged the music for. His mother is a famous children's book author. His children are artistic. His wife is a better person than him in nearly all regards.
TWITTER | FACEBOOK | PATREON | NEWSLETTER
Purchase