#BlogHer12 – Blogger Bash: Review and Sweepstakes – Greener Living Organic Soap Nuts $39.99 Value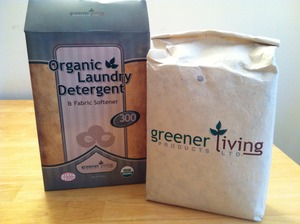 I first learned about soap nuts in regards to cloth diapering. They are especially recommended for babies with sensitive skin, eczema, or skin allergies. Soap nuts aren't just for cloth diapers though. They work great for all laundry.
They are great for those who wish to avoid any unneccesary chemicals, because there are no synthetic chemicals, fragrances, dyes, brighteners, foaming agents, or any other additives. They are simply a shell/nut found naturally in nature.

One of the best things about soap nuts is that they leave NO residue. This means you can skip the rinse cycle, savings thousands of gallons of water per year!
Typically, you place 3-5 soap nuts into a muslin bag and wash in warm or hot water. Each set will last 10-20 washes before starting to break down. Most companies advise you use a new bag when this happens, but I've found that adding a new soap nut to the bag every 10 washes or so allows my clothes to get clean and yet cut down on how often I need to replenish my soap nut supply.
Greener Living Products has offered to give one bag of Soap Nuts to one lucky Freetailer. This bag is worth $39.99 and is enough for 300 loads! Enter in the Rafflecopter below.

a Rafflecopter giveaway