I get the best sleep on a Bed of Nails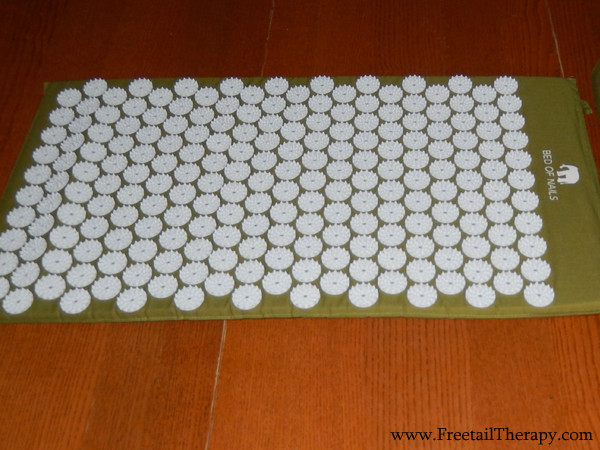 When Bed of Nails asked me to review their product, I have to admit, I was a little shocked at what it was. It really lived up to its name. Bed of Nails comes with a flat pad that is 16"x29" and a half round pillow that you put under your neck instead of your head, and on each of them, are these round discs that have short spikes on them. I was intimidated, so say the least, it looked very painful!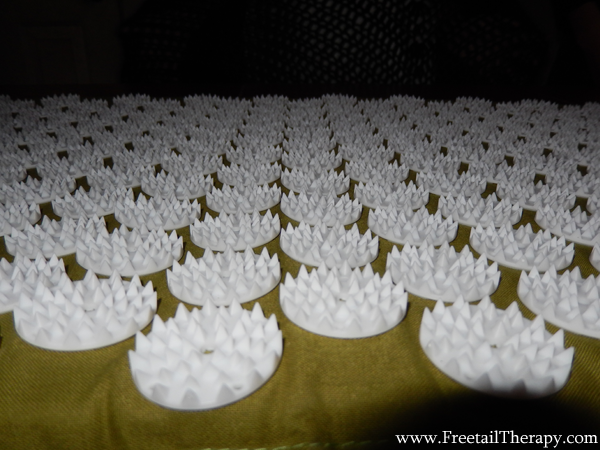 Their set came in green or pink, and my comforter is green, so I figured that is what I was going to go with.
They said to start out slow and lay on it with a thin t-shirt and work up to being bare skinned. Unfortunately, when I wore a thin t-shirt, I could feel nothing. I can't explain it really, but I knew the spikes were there, but I couldn't feel them, so I decided to get brave and take my top off. WOW! I expected pain, but what I got was something completely different!
Relaxation! At first, it was a strange sensation, all these little spikes poking me in the back and neck, but it only took about 30 seconds for things to start happening. My heart started beating a little faster, I got very warm (which is strange for me, I'm ALWAYS cold) and within 2 minutes, I was sleeping. It was literally the BEST sleep I have had in YEARS! It always takes me forever to fall asleep, usually about an hour, if not more. My husband, on the other hand, can fall asleep in seconds, I'm jealous. Anyway, I was trying this out mid-day, so when I woke up and saw it was light outside, I asked my husband how long I had been asleep. Only 20 minutes! Yes, I had the best, most deep sleep that I have had in YEARS and woke up feeling very well rested, after only 20 minutes! I was shocked! I didn't believe it really, so the next day, I used the Bed of Nails again and checked the clock when I laid down on it. Again, woke up very well rested and only 10 minutes had passed!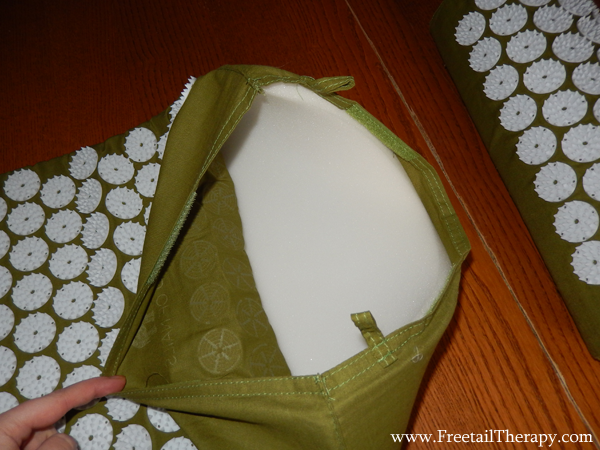 I haven't been able to stay asleep on it for more than 30 minutes, but in all honesty, that's fine with me. As long as I am feeling like I slept well, 30 minutes is great. What I have been doing is using the pad at night for as long as my body allows, and when I wake up, remove the pad and go back to sleep. I find that going back to sleep isn't as hard as getting to sleep, so the Bed of Nails is a great tool for getting me an 8-9 hour sleep that my body has been craving. I should mention here, that I am a diagnosed insomniac, who hates prescription drugs. I think I finally found what I have been needing forever!
The first time I used the Bed of Nails, I did notice that when I moved off the pad, it felt like I had a bad sunburn on my back, it was very painful. It wasn't painful while laying on it, only after I got off. Luckily, that pain only lasted about 10 minutes, and has not happened since. I think my body just needed to adjust to the spikes, and it was rebelling a little. I was worried that I would have that feeling each time, but it never happened again.
The way the pillow is designed, where you place it under your neck and your head flat on the mattress, is how our spine is built. That's how we're meant to sleep, not with a pillow under our heads. I have had fewer back pains since switching to this pillow, because it cradles my neck instead of lifting my head. It is super comfy!

If you are wondering, yes, the spikes poked my back pretty good, but they did not poke through my skin, nor draw blood. They were designed to give just enough pokage (it's a word now!) and pressure without breaking your skin, so you shouldn't have to worry about that unless you have skin that tears easily.
For those of you who read my reviews on a regular basis, you know that I try my hardest to give you both the positive and negative of the items I review. The thing is…..I don't have anything negative to say about this product. I haven't found any flaws and it does exactly what it claims to. I guess if I were to have to come up with something, it is that the pad only covers from my shoulders to my rear, and I would love for it to go the full length of my body, so I could feel it on my legs too. Maybe I'll just have to get another one!
Info from the company:
The Bed of Nails Mat is covered with 210 acupressure plates, each in its turn covered with 42 rounded nails for a total of 8820 nails per mat and measures 16.5″x28.5″x1″.
The Bed of Nails Pillow is covered with 51 acupressure plates, each in its turn covered with 42 rounded nails for a total of 2142 nails per pillow, and measures 14.5″x4″x6″.
The Bed of Nails products are made of non-toxic 100% recycled ABS plastic that is melted on to the fabric (no glue is used), 100% cotton (AZO cert, no synthetic during dye), foam is made of PU (no PAHS chemical).

Bed of Nails is an excellent aid in self-treatment and stimulating energy in the body. Bed of Nails may also help the body rid itself of toxins, so it is important to remember to drink water after using Bed of Nails.

Bed of Nails works similar to acupuncture, the pressure of the rounded nails against the skin may help the body release endorphins, the body's very own "happiness drug" which provides a sense of joy, energy and painrelief, and oxytocin, which makes you calm and relaxed ( yes, it is possible to feel energetic and be relaxed at the same time). Everybody reacts differently to Bed of Nails, and the effects can even vary from time to time; You may feel tired, hungry, happy, alert. Alot of people experience feelings of happiness, relaxation and hightened body temperature.
If Bed of Nails is used regularly for a long enough period of time it may alleviate:

Stress
Headache
Constipation
Tiredness
Insomnia
Tension
Back pain
Muscle aches
Malaise

Bed of Nails may also reduce the appearance of cellulite. The nails will create more blood flow to the area on which Bed of Nails is used and this can help break down the fat groupings which causes the cellulite's plumpish display. Since Bed of Nails helps the body rid itself of toxins this might also help reduce cellulite.

Warning! The Bed of Nails Pillow should not be used in case of skin disease, hemophilia or the intake of anticoagulants. If you are uncertain, always consult your doctor before use. Keep away from children 5 years of age and younger.