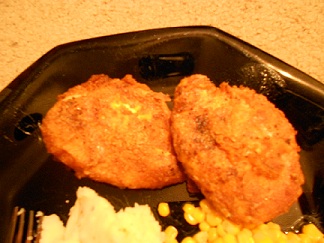 In my family, we have to be very careful what we cook for meals. Not because anyone is allergic, but because they are so very picky. My husband and oldest daughter do not eat any type of seafood or salads. My youngest daughter doesn't like steak or spaghetti ( although she will eat both if that's what the rest of us want to eat, because she is awesome like that). It is just a chore planning meals sometimes. One thing they have always loved, is chicken, in almost anyway that I have thought to make it. I saw this recipe last year sometime on
Our Life Uncommon
. I had to try it because we love fried chicken, but I wasn't good at the frying part. We normally bake every kind of meat that we eat.
I remember when I was first married, I asked my mom how you knew the chicken was done frying. She said that you don't unless you cut it. Her first foray into frying chicken ended up with a Kentucky fried look alike that was pink in the middle. I don't want that to happen to me, so I always cut my meats in half to ensure that they are completely done.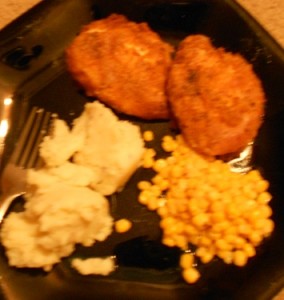 Sorry, before I could grab the camera, the chicken was gone. My husband was nice enough to let me take a picture of his plate before he started to eat. Thanks Hun!
Place thawed chicken breast tenderloin strips in a bowl of milk. Let soak for 20-30 min.
Mix dry ingredients in a large bowl:
1/2 tsp. Salt
1 T Season All
3/4 tsp Pepper
1 c. Flour
2 tsp. Paprika
Preheat oven to 400 degrees. Cut 1/2 stick of butter into a few pieces and place in a 9×13 pan. Melt butter in pre-heated oven.
Spread melted butter around the bottom of the pan.
Shake excess milk off of chicken and completely coat each piece with the seasoning mix. You can either shake the chicken in a bag, until coated, or dip each piece in the bowl until coated.
Place each piece of chicken in the pan.
Cook for 20 min. Turn each piece of chicken and continue cooking for 20 more minutes, or until cooked through.
Optional: We love garlic so some days we add garlic to the above mix, usually about a teaspoon or whatever suits you.