#BlogHer12 – Blogger Bash: Review and Sweepstakes – Core Bamboo $42 value

About Us

Core Bamboo is the proud manufacturer, wholesaler and retailer of the world's finest Bamboo products including bamboo bowls, cutting boards, serving trays and utensils. All of our products are made by our experienced team of hard working artisans in a safe and responsible environment. We take great pride not only in the outstanding quality of our products but in the environment in which they are made. Every product that bears our name was made ethically and in a socially responsible way. We have been awarded several honors by different local associations and trade groups for the standard in which we hold ourselves by.

Our Social Responsibility

We were fortunate enough to be born into a more privileged environment. We view it as our responsibility to help those who weren't. It has been a Core directive since our inception to always give back to the communities in which we are proud to be a part of. Our family of over 2,000 skilled and talented artisans span throughout different parts of the world. All of our communities benefit from their employment and our local charitable endeavors. From proper housing and medical care, to additional parks and recreation, it gives us a great sense of purpose and accomplishment that we are able to play a meaningful part in the lives of such wonderful people.

The Basics

All of the bamboo we use is 100% organically grown. We use food safe water based adhesives and we finish our products with top grade natural oils. Even our lacquer comes from natural cashew trees. Every product adheres to the standards of the FDA and European equivalent. Wherever possible we use recycled and eco friendly packaging.

Some people talk about being organic, We live by it!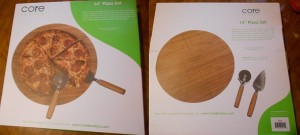 Before I had kids of my own, I used loads of the cheap stuff.  Cheaper plates and bowls, normally made of hard plastic. I didn't care what we ate off of, just as long as we ate something. Now that I am older and I have a family of my own, I want to have nicer things. As the saying goes, you get what you pay for. I have started to look for a few things, here on https://www.laurelandwolf.com/blogs/best-dinnerware-sets I got quality dinnerware and utensils. Looking through what is offered from Core Bamboo, I was excited to get something that I knew we would use many, many times. I was so excited that I was able to pick the Ultimate Pizza Set to review. The pizza set is a round, grooved tray. It comes with a pizza cutter and server, both of which have wooden handles. The grooves make it so easy to get a perfect cut to your pizza. I don't have to worry anymore about spending too much time trying to get even sized slices of pizza. No more kids complaining that their siblings got a bigger piece than they got. I Love it! Core Bamboo has so much to offer; utensils, trays, storage, kitchenware and so much more.
Pros:
100% organically grown
packaging is recycled and eco friendly where possible
reasonable prices
well made
variety
Cons:
with so much to choose from, you might not know where to start
1 Freetail Therapy reader will get their very own Ultimate Pizza Set !