Tortellini and Sausage Skillet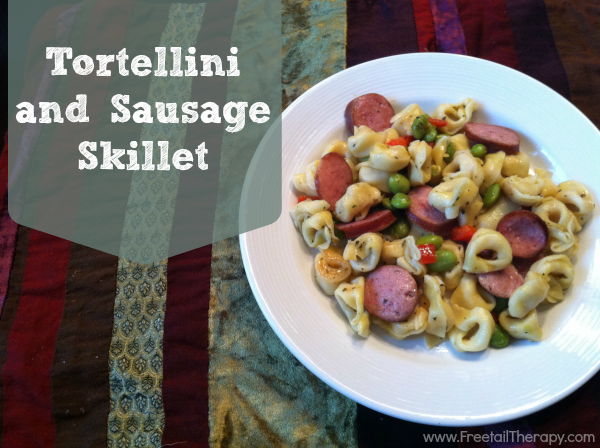 Here's a delicious skillet recipe that gives you an alternative use to your traditional cheese tortellini and smoked sausage.  Paired with edamame, fresh red pepper, and a few simple spices, this recipe will be hit for your next meal.

Tortellini and Sausage Skillet
Author:
Ingredients
12 oz. frozen or dry cheese tortellini, cooked
2 cups edamame, cooked
¼ cup red pepper, diced
1 lb. smoked sausage
½ cup olive oil
½ tsp. garlic powder
½ tsp. onion powder
½ tsp. Italian seasoning
Instructions
Begin by cooking the tortellini as directed on the package and carefully drain. Be careful not to overcook, as this will make the tortellini crumble easily once mixed into the skillet. *If your edamame is frozen, you may add it to your water for the last few minutes to cook with the tortellini.
Slice the sausage into desired thickness. Add the sausage to your skillet and cook over medium heat until cooked through or slightly brown.
Next, add the edamame, red pepper, and tortellini.
In a separate bowl whisk together the olive oil, garlic powder, onion powder, and Italian seasoning. Pour the mixture over the ingredients in the skillet.
Stir gently to mix all ingredients.
Allow to cook on low to medium heat for an additional 5 minutes.