As unschoolers, we're free to make our own schedules. So we're playing math games and testing camp food, before we decide to bulk buy or freeze dry homemade lasagna at 2am just to celebrate an obscure secular holiday. We're celebrating "The Final Countdown" 4/3/21 by teaching our children to live every day as if it could be their last, while also doing our best to help others any way we are able! Again, please forgive our remodeling mess. It should be over soon.
We always like to give test out a new product before diving in and buying a lot of it. It's just a smart idea, because there's no point in storing food that will sustain you, but make you miserable because it tastes like dirt. It has happened to us, and we agreed that no new foods get put into our long-term storage until it is approved by the majority of the family first.
We all stayed up late last night, playing various tabletop games, including one called "Countdown" (or Shut the Box) as seen in the image to the right and testing out the can of Augason Farms Italiano Marinara Lasagna to see if it would make the cut. The can came with three packets of lasagna, we made two of them, and decided we'd try the last another time. The overall majority enjoyed the flavor, though it did have a sweet undertone that doesn't usually suit us. We think adding some ground meat would make this a pleasurable meal, and so we ordered four more cans to put away in storage.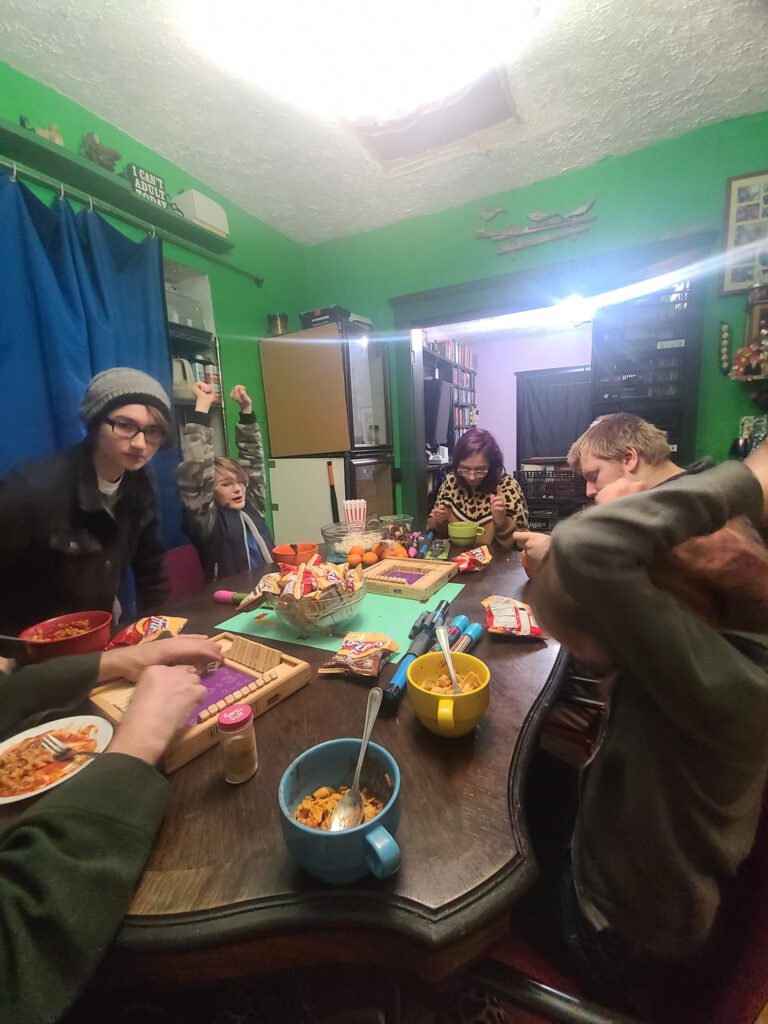 Even though homemade lasagna always wins in flavor, we've decided that we will keep both our home freeze dried version, as well as this canned option. Unfortunately, our Harvest Right freeze dryer will remain down until our remodel is complete.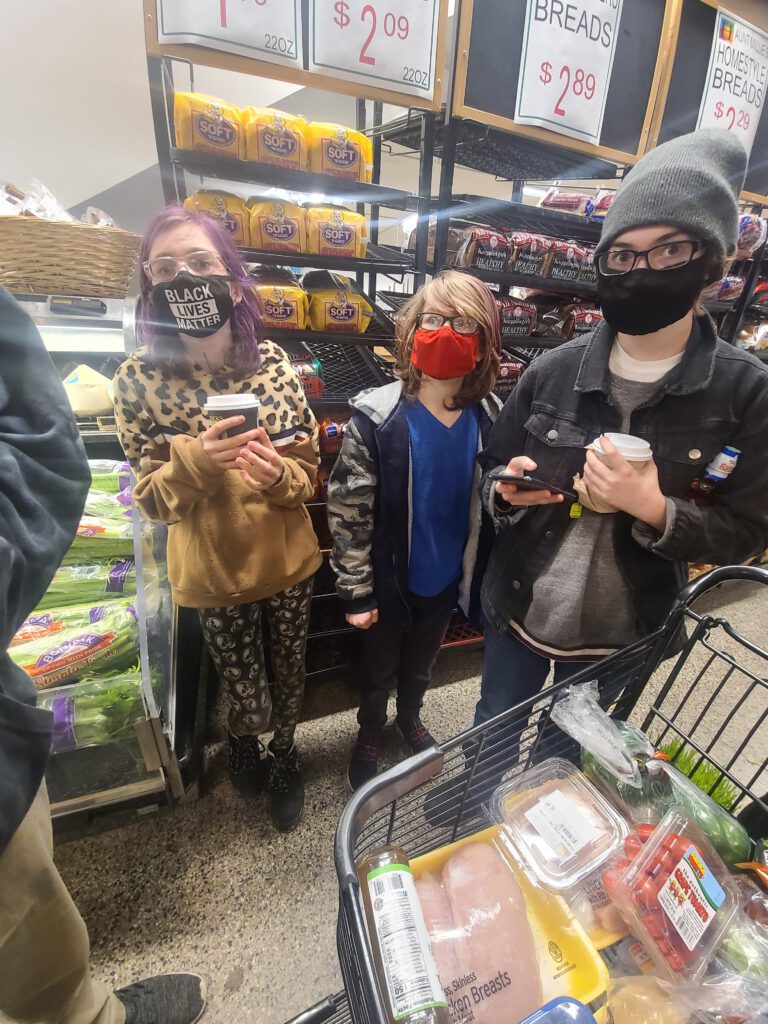 We made a quick stop at our favorite grocery store to pick up some grilling goodies that Owen said he would tend to. We decided on a mix of chicken and shrimp for our proteins and added cherry tomatoes, green peppers, mushrooms, zucchini, and squash topped with a smidge of Pink Himalayan Sea Salt that we picked up from Horrocks' salt bar.

Of course, a trip to Horrocks always means a cup of coffee or tea, because they offer that free with any purchase. It's a nice little treat that we all look forward to.
Our big plan; however, was to get the small strip of land out front, turned into a proper garden. We discussed this all through prepping and cooking dinner. The work would begin after we stuffed our faces.
We decided it was best to work from the outside in towards the pantry box, on each side, to try to keep it as symmetrical as possible, while also allowing for the most growth in the smallest amount of space.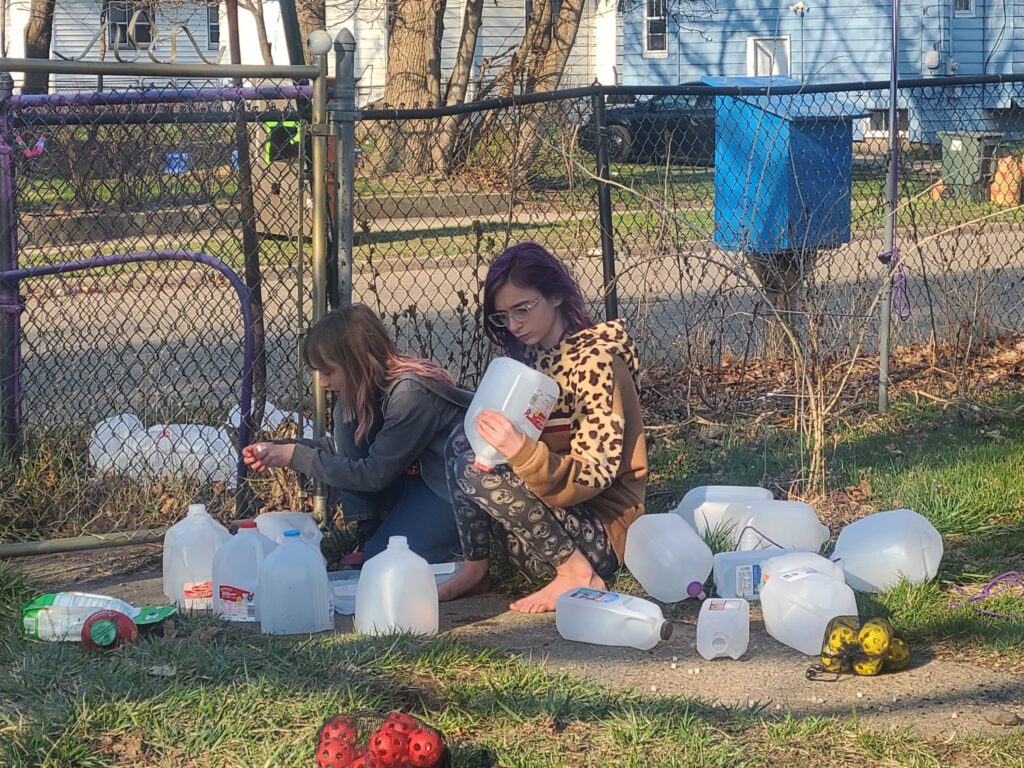 They quickly got to work on cutting up the empty plastic jugs that we have been collecting from our own waste, as well as some donations from locals who wanted to help out with the project. The bottom of the jugs were each cut off, as was the top curve of the handle – allowing for a long stick to be shoved through the hole and down into the ground, to act as an anchor. The jugs cover up the tomatoes, cucumbers, peppers, Swiss chard, spinach, and lettuce. They will stay anchored over the plants to act as mini greenhouses, until the weather stabilizes a bit more here in Michigan.
Please enjoy the following photo gallery of our day, "The Final Countdown" 4/3/21 and stay tuned for more information on our front yard garden.