Review: Gwen Stefani – This Is What The Truth Feels Like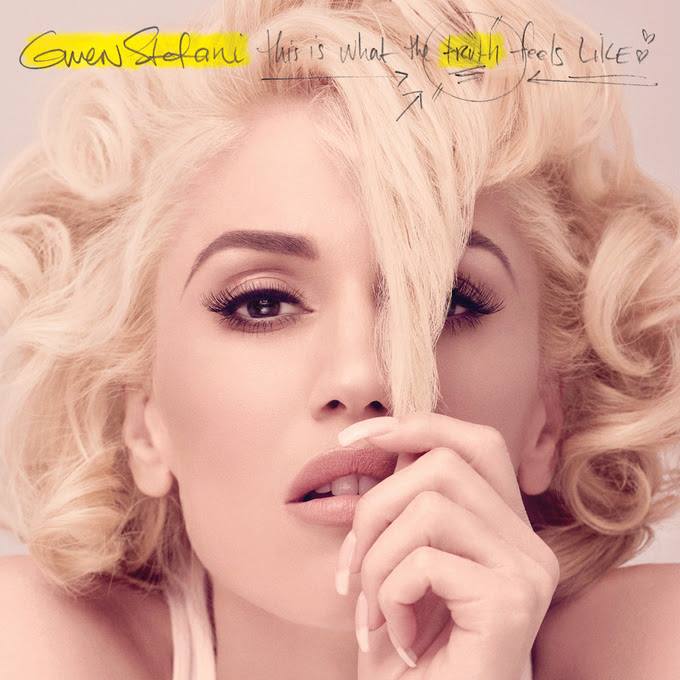 I was sent a copy of Gwen Stefani : This Is What The Truth Feels Like to review. I was not familiar with any of Gwen Stefani's music, so I was excited to see what she's all about. 
I think I am obligated to start this off with the fact that the kind of music I listen to is David Bowie, Styx, Stevie Nicks, Journey, Bob Seger, Aerosmith and similar. It was quite obvious that Gwen Stefani is nothing like any of them, but that's ok. I was completely open to trying out some new music. As I was listening, I was jotting down notes of feelings that came to me as I absorbed the lyrics and the beat, so here goes nothing. Below, is the track number, name of the song and the length of the song; under each is my first impressions.
1. Misery 03:26
"It's a bit slow, I can't see this being played at a club without being altered. The lyrics are quite basic, easy to follow, and repetitive."
2. You're My Favorite 02:56
"Is all her music about liking a boy and him not liking her and being on drugs? Oh, yep, apparently it is."
3. Where Would I Be? 03:18
"Oh, I was wrong, this one is about the boy (her words, which irks me) liking her."
4. Make Me Like You 03:36
"About the boy making her like him and she doesn't like that? The songs all sound the same so far. It's AWFUL! She's got a great sultry voice, but the lyrics are just SO BAD."
5. Truth 03:34
"I'm liking this one…..nevermind, I was about to say why, it actually gave me chills and a happy feeling, then she used the word "boy" again………. "man" has the same number of syllables, can we use deeper, more adult language when talking about relationships and sex?"
6. Used To Love You 03:47
"This one is gonna make me cry, reminds me of my ex husband. He's a douchebag, I married him for a reason back then, but there was FAR more reasons to divorce him!"
7. Send Me A Picture 03:35
I didn't make notes on this one and had to go back to listen to it again. Then I realized why I had no notes. It didn't make me feel anything, or think of anything. I was completely neutral on this one.
8. Red Flag 03:20
"This is making me want to rip my ears off, throw them on the floor, stomp on them, them vomit all over them."  The voice bending is completely different from her other songs on the album, and that was my exact feelings through the entire song. I just could NOT like this one, even a little.

9. Asking 4 It (Feat. Fetty Wap) 03:30
It was at this point, that I started to zone out and hope to not hear anymore. I didn't take notes on this one, so had to go back and listen again. "Why would you wanna be someone like me" sings Gwen. "I was nothing" "Are you sure you wanna love me?" "You're asking for it" She seems to have very little self confidence and that kind of sucks. I hope she is able to work through her issues. It seems like this album may have been very therapeutic to her, I can see that. It's just not my cup of tea, not something I would listen to again.
10. Naughty 03:07
"Definitely a more adult song, lots of moaning. This one I can see being played in a club. The beat is good, the lyrics are still in dire need of depth."
11. Me Without You 03:33
"Still obviously about a guy, not sure she thinks about anything else? Oh that sounds like a rip off of Miley Cyrus "I can love whoever I want, say whatever I want, do whatever I want, hey" yea, it's a small thing, but all I can think of is Miley there."
12. Rare 03:54
"So glad this is the last song. Hey, I kind of like this. The beat is high, I could clean the house to this. I enjoyed this one, too bad the rest of the album was awful."
NOTE: There are four bonus tracks on the album available at Target, that I was not able to listen to for this review.
13. Rocket Ship (Target Exclusive)
14. Getting Warmer (Target Exclusive)
15. Obsessed (Target Exclusive)
16. Splash (Target Exclusive
So, I guess you can take it from my notes, that I didn't much care for this album. It's not my type of music, the lyrics are shallow and hold little to no meaning; for the most part. I couldn't really tell a difference from one song to the next, they almost all sounded exactly alike, except for "Red Flag" which was just SO HORRENDOUS that I felt physically ill from listening to it. Here are two videos you can watch, to see if it is your style or not.
"Used To Love You"

"Make Me Like You"

If you are already a fan of Gwen Stefani, you may like this though. I have no idea what her other music sounds like, so I can't tell you if it is similar, and honestly after listening to this, I am not planning on seeking out her other music to find out.
Should you still wish to purchase this after my review, it was released in-stores on Friday March 18th, 2016. You can get it on iTunes, Target, and The Gwen Stefani site, which has limited availability of special bundles.
FTC Disclosure: I participated in this sponsored album review program as a member of One2One Network. I was provided the album to review but all opinions are my own.