Manicure of the Week – Seche Inspiration and China Glaze Fairy Dust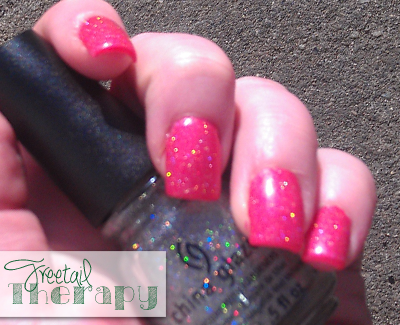 My friend from The Rosy Snail, told me about her love for China Glaze's Fairy Dust, which is a discontinued polish. She wanted me to try it out, so sent a bottle in our latest trade. I had NO IDEA that it would be so perfect! I am not a sparkles type of person. Don't get me wrong, I like the look of sparkles, I just don't like having to remove the stuff. Glitter is extremely difficult to remove. With how tiny the sparkles are in Fairy Dust, it makes removal fairly simple. Another plus is that there is no texture to it like most glitters!
I am pretty sure that this is going to be a staple in my manicures for a while!

Today I am wearing Seche Nail Lacquer Inspiration as a base color, topped with China Glaze Polish Fairy Dust. I also put a coat of Seche Vite Dry Fast Top Nail Coat over it. This top coat is amazing, by the way! It is by far, the best top coat I have ever used!