Manicure of the Week – Zoya Wednesday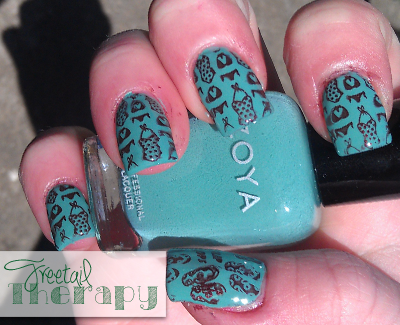 With the warmer weather approaching, I wanted something fun! I got my hands on my very first Zoya polish, Zoya Beach Collection Summer 2012, Wednesday, so had to see what I could do with it.
I didn't much like the look of it alone.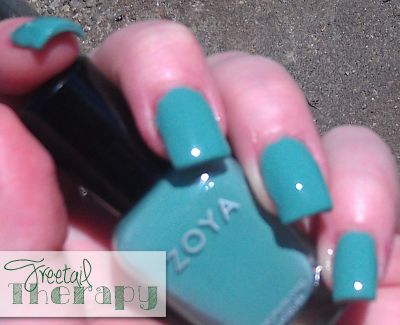 Although, in this picture, I kind of like it. It just seemed too plain in real life and I had to dress it up a bit. I had the 2012 Cheeky Set of 26 Nail Art Nailart Polish Stamp Stamping Manicure Image Plates Accessories Set Kit With Total of 161 Nail Art Designs, and used one with bathing suits on it for all but my thumbs, on those, I used a flip flop print, from the same plate.

Zoya is helping you do a little spring cleaning with the return of the Earth Day Zoya Nail Polish Exchange* for 2013. Clean out your nail polish wardrobe and get rid of old nail polish that may not be BIG5FREE (Free of Formaldehyde, Formaldehyde Resin, Toluene, DBP and Camphor) and exchange it for a greener alternative – long lasting, award winning, healthy ZOYA Nail Polish Bottles!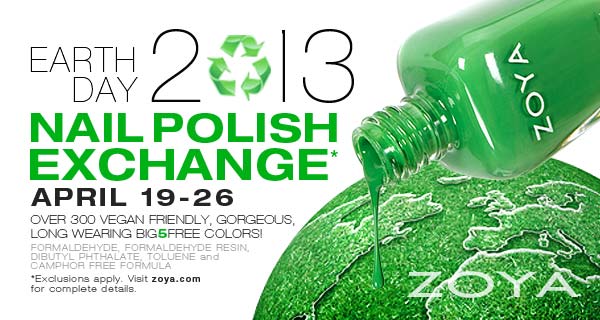 Go to Zoya.com and pick out the polishes you would like (Note: ALL Zoya PixieDust Collection shades are excluded) and add them to your cart. You must select at least 6 bottles and no more than 24 bottles of polish (Salon accounts minimum 12 maximum 48 bottles).
Apply the code: ZOYAEARTH2013
Your order value will be adjusted to reflect a 50% discount (we use these funds to properly dispose of the old nail polish).
SUBMIT your order!
Then Zoya will ship out your NEW polish! YEAH!
Once you get your order, here is where the exchanging* happens…
Ship back the equivalent number of bottles you received to the return address below (ie. If you got 6 bottles of Zoya – you would send us 6 NON-ZOYA polishes). Please check with your carrier on the proper way to ship nail polish.
Include a copy of your order.
To clarify the exchange: You do not have to send us the exact amount of bottles that you are ordering. You can send any quantity up to that amount. You can also donate. If you decide you don't want to do either, it's ok "Offer is not contingent on customer returning polish" – we will still love you and will ship the Zoya polishes… we'll just send you on a guilt trip for a while :)