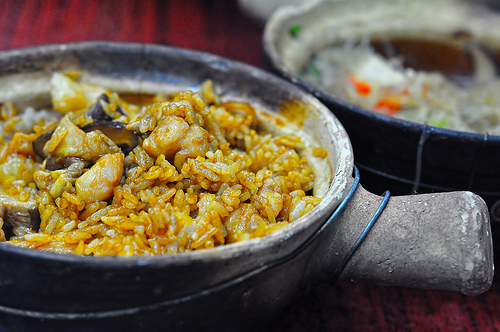 Some rights reserved by jh_tan84
What's for dinner? No matter what your main course is you won't go wrong with serving Gourmet Mushroom Rice. You could even use it as a main course if you wanted to. It would be an easy main dish recipe for dinner tonight. Listed below is the recipe:

1 pound of fresh mushrooms, already prepared by slicing in half

1 cup of onions already prepared by chopping

1/4th cup fully cooked ham that is diced

1 Tablespoon butter or you can use margarine

1/4th teaspoon of salt

1/4th teaspoon of black pepper – this is ground

3 cups of hot rice that has been cooked.

1/4th cup of dry cooking sherry

1/4th cup of fresh parsley – that is chopped.
Start this recipe by cooking the mushrooms with the onion and ham in the butter using a large skillet. Cook this over medium heat until the onion is golden in color.
Then into that mixture add the salt, pepper and sherry and heat.
Pour the mixture over the hot rice and toss lightly.
Then garnish with the parsley and you're done.
Now how easy could that be? People think that gourmet recipes have to be very difficult. This is strictly a myth. Whether you are baking, making a main dish, an appetizer for a party or a dessert, there's hundreds of recipes that you can use. If you go to Recipe Kingdom, you can find just about any recipe that you would need including chocolate recipes for desserts.
Just put in gourmet when you get there. This will take you to Recipe Kingdom-Gourmet Secrets-Step By Step Easy Recipes and then you decide which recipe you want to try. There isn't one there that you can't do so don't be intimated. You'll do great and if you're serving for a party or dinner guests you'll be able to impress. So take your time and let your creative side come out. Believe in yourself!