How Do I Find the Right Dentist for My Kids?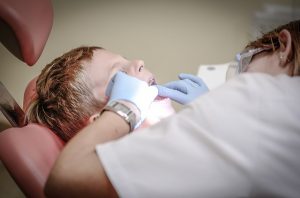 Your kids learn to care for their teeth and gums by example, and one of the best examples you can set for them occurs when you schedule regular visits with their dentist. When you all go to the dentist for a good pediatric care, not only do you make sure your teeth are clean, you also learn how to improve your oral hygiene routine. This benefits your smile now and forever. However, when it comes to your children, you want to make sure you find a dentist that not only understands how to work with children's teeth, but also will make sure your children have a good experience. Here are a few things to keep in mind when searching for a pediatric dentist.
Ask for Recommendations
Word of mouth is one of the best ways to find a good dentist. Ask other parents who they love to visit when they need to take their kids to the dentist. They will easily be able to list who they have had a good experience with and who they haven't. They will also be able to answer your questions about how a dentist acts and whether or not they address your concerns. Parents have strong opinions when it comes to their kids, and they won't hesitate to tell you the good and the bad in a way you won't find anywhere else. Make a list of the dentists that have the best reputation from this checklist provided by West Cobb Dentistry, and give each one a call.
Let the Kids Visit the Office
Before you choose a dentist for your kids, let them visit the offices and get to know the staff. This helps your kids become familiar with the office and the staff, and they get to meet the dentist. A good dentist helps them become excited about their first visit, and your kids will develop feelings about each office. This is also a good way for you to get to know the office as well. As Town Center Dental points out, the best dentists listen carefully to their patients so that they can help them individually. This initial visit can give you an idea of how well the dentist will listen to you and address your concerns.
Choose What's Most Important
You want your kids to feel good about their dental visits, and that means you must find a dentist who is focused on patient care. You want your kids to feel safe, secure, and confident in their dentist. They should feel that their dentist is giving them their all and putting their oral health at the top of their to-do list. If patient care doesn't seem to be a priority in a dental office, it's time to move on. If you have a clinic that you want to grow, use the right dental marketing services and get more patients. 
Your kids are going to learn by your example, and it's time for you to set a good one for them. They need parents who take the initiative to instill in them the importance of good oral health care. It's never too early to start. Your kids should begin visiting the dentist once their first tooth comes through, and they should look forward to their visits each time.