I went to the Lego Store in Orlando during SheCon!
I went to SheCon in May of 2012, yes, I know this post is SUPER late, but not quite a year yet. I found it sitting in my drafts, nearly completed, but forgotten, so I figured it was time to finish it up.
SheCon is a blogger Conference, where I was able to meet a few of my online friends and learn some new things about blogging. It was held on Disney property, so I was all over it! I have never been to Florida, much less Disney.
Although I didn't get to see any of the Disney parks, I did get to go to Downtown Disney, which had so many cool stores! One of my favorites was the Lego store, I KNOW my kids would have loved it. I really wish they could have come with me, alas, there is always next year!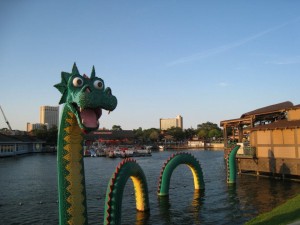 I was completely amazed with all of the Lego sculptures that were inside and outside of this store. My favorite was this water serpent, I totally wanted to dive in and climb up his back. It takes me forever to build a simple Lego car, I can't even begin to imagine how long this sculpture took.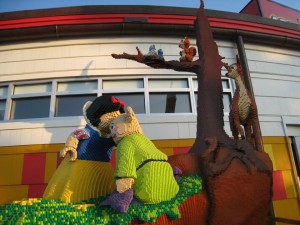 I admired each sculpture, as each one was so intricate and perfectly designed. Check out the Snow White and the Seven Dwarfs one, it is spectacular! I mean, seriously, they even have little bird in a nest! Even the tree roots are perfectly created. I think I would LOVE to have that little deer in my front yard. It would be the talk of the town, that's for sure!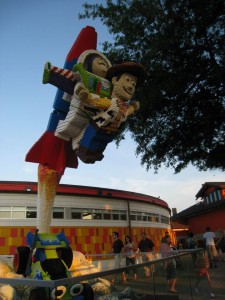 And here, we have Buzz and Woody, riding on R.C. and "Falling with Style". If you look at the people in the background, you will notice that they aren't even looking at the awesomeness, just going about their business as if this is an every day occurrence. The thing is, it just may be something they do every day, since we are in the Downtown district, and not actually in the parks, therefore there was no charge to get in.
Inside, they have a Wall-o-Legos (that's just what I dubbed it, I never asked if they really named it) which was full of bubble-like containers. Each container had a different color or shape of Lego, and you could scoop them out to buy them by the pound. A really neat concept, especially if you need a very specific piece. You are sure to find that missing "L" shaped piece that you would otherwise have to buy an entire kit in order to get a double of.
But on top of all that awesomeness, I just found this video and HAD to share. ENJOY!