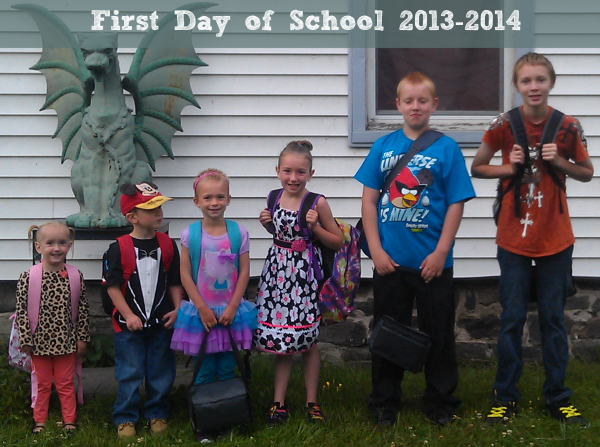 I sent them to school. I shipped them off to be taught by people who don't know them, who don't love them, who won't help bring out the individual in them, and I regret it. I was a strict mother, one who had many rules, but one of those rules did not include homework. I was never a fan of homework, because in my mind, i couldn't figure out why the schools needed my kids to work for 2 to 3 hours a day at home, after being in school for 7 hours. I lost connection with my kids, and they lost their passion for life and the things they loved to do.
That's over now. They are home, and happy and I am excited to get them back to learning about things that inspire them, to be their own person and to spend more time as a family, instead of 8 people living 8 different lives. On November 6th, 2013 the paperwork was signed, and on the 7th, it was shipped off with Signature Confirmation, and has become official. My kids are being homeschooled in New York.
I was recently asked a question that I think I needed to answer to myself even, so I figured I would share it here too.
What made you decide to change after 13 years? I know lots of parents with rules like you used to have and I can't imagine them changing.
What made me change? I love my kids, and I have seen their dreams die because of my rules and school. My oldest ran away (he went to grandmas house luckily) for a night and that made me really start to think about things. I asked him WHY he left, and he said it was because I don't let him do anything. I always thought I was protecting him, but I see now that I was sheltering him from reality. He had his very first sleepover last month, and it was so hard for me to let him do that. He loves to play guitar, but with school, the last thing he wanted to do was take more lessons, so he just stopped playing. It hurt my soul to see what was happening to my kids.
It is going to take time to get used to, how to balance blogging full-time and kids. I usually blog while it is quiet and they are in school, but now they will be home and I think I will rely on my headphones more than ever to get some work done. It's a major life change for all of us and I know it will take a while for all of us to find out place. For now, we're just going to have fun and get to know each other again.
I did sign us up for the homeschooling swim classes at the YMCA though, because the kids love swim classes, and we need to get to know other homeschooled families. Not to mention that the hours are much easier to work with than the schedule of the swim lessons for their regular age groups.
I can't say I'm not scared, these are my kids and their well-being is the most important thing to me, so yes, I am nervous, but I also believe in my heart that this is the right decision for them. The city that we live in has a very low graduation rate and the education is lacking, to say the least, so sending them off to get a lackluster education seems pointless to me.
So, this is us, The Stevens' Clan, and we're breaking into the Homeschooling side of the world. I look forward to writing about our life and the things we do.