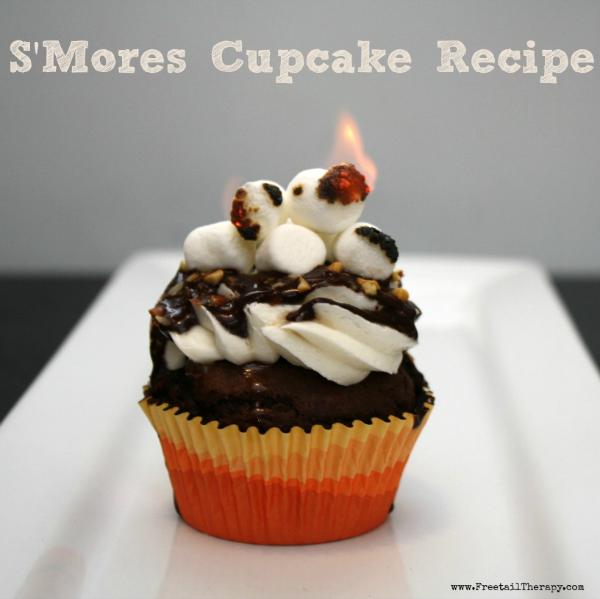 Nothing beats a toasted marshmallow over a melted chunk of chocolate on top of a Graham cracker, unless of course you mix all that awesomeness in with a cupcake! This is seriously a recipe that you NEED! Bring it to the scout meetings, or celebrate a family outing with these amazing chocolate S'more cupcakes!
Now, I wouldn't recommend serving them on fire, like shown, but you can gently toast the marshmallows to give them that "cooked outdoors over an open fire" look. Make up a batch and let me know what you think!
Author:
Ingredients
[b]Cupcakes (Recipe from [url href="http://www.food.com/recipe/simple-chocolate-cupcakes-269713″ target="_blank"]Food.com[/url]):[/b]
1 1/3 cups flour
1/4 teaspoon baking soda
2 teaspoons baking powder
3/4 cup unsweetened cocoa powder
1 dash salt
3 tablespoons softened butter
1 1/2 cups sugar
2 eggs, beaten
1 teaspoon vanilla
3/4 cup milk
[b]Frosting:[/b]
2 cups butter, room temperature
3 cups powdered sugar
1 teaspoon almond extract
13 ounces marshmallow creme
[b]Chocolate Ganache:[/b]
9 ounces bittersweet chocolate, chopped
1 cup heavy cream or whipping cream
[b]Toppings:[/b]
chocolate ganache
chopped peanuts
mini marshmallows
Instructions
Preheat oven to 350F. Line muffin tin with liners.
Sift together the flour, baking powder, baking soda, cocoa, and salt.
In a separate bowl, cream together butter and sugar with electric mixer until light and fluffy. Add in eggs, one at a time – beating after each addition. Then add vanilla. Alternate adding the flour mixture and milk to the sugar mixture, beating well each time, until all incorporated.
Spoon batter into muffin cups and bake for about 15 minutes, or until a toothpick inserted comes out clean. Allow cupcakes to cool before frosting.
[b]To make frosting[/b], cream together butter and powdered sugar until soft and fluffy. Add in almond extract, mix. Gently fold in marshmallow creme until well combined.
[b]To make ganache[/b], heat cream in a small sauce pan over medium heat. Bring to a boil, but AS SOON as it starts to boil, pour it into a bowl with the chopped chocolate. Whisk until smooth. Allow to cool slightly before pouring on top of frosting.
Frost and top with nuts, chocolate ganache, and mini marshmallows. Use a lighter to "toast" the marshmallows. Yum!!