Review: HIRALI ® X-31 LED Rainbow gaming keyboard and mouse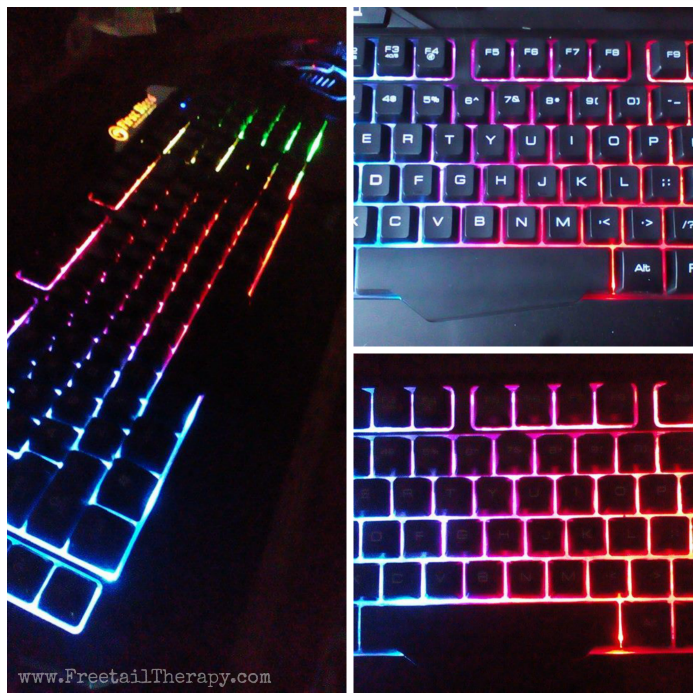 Smart Electronic from Amazon sent me this HIRALI ® X-31 LED Rainbow gaming keyboard and mouse set to review. They know that I am an avid gamer (and yes, I realize that video gamer and homesteader isn't a combo you hear of often) and that I adore awesome gadgets to play with, making this set a perfect item to test out for them.
As soon as I plugged this set into my computer, I was in love. I said to myself! This is perfect for my gaming! In case you are curious about what game I used to play, click over here and you should play it too! The color hypnotized me and made me grin from ear to ear. It's just a stunning keyboard. The mouse not only lights up, but changes colors every so often, sometimes being a solid color and other times mixing three or four colors in a beautiful pattern. They keyboard stays a solid rainbow, never changing. The left side starts with blue, then pink, red, orange, yellow, and finally green. You can change the settings on this though. By pressing Fn+Esc you can make the keyboard pulse through brightness or stay solid on two different levels of brightness, and even shut the lights off if you wish. The only issue I have is that the entire keyboard is backlit, but not the individual keys, so you don't see the letters in the dark. This is fine for people like me who can touch type, but my husband is a two finger typer and needs to see the keys. He was hoping for something he could use in the dark, but the backlighting of the keyboard drowns out the keys, so it's not going to work well for someone like him.
This keyboard has anti-ghosting technology, so I am able to game more effectively than with a regular keyboard which usually allows you to press down a maximum of three keys at the same time and can be very frustrating in some games to hear a beep coming out of your computer when you're holding down the forward button, using a booster and trying to avoid other racers at the same time. I play mainly Final Fantasy XIV (switched from FFXI after 9 years of play) and race Chocobos for in game points. Trying to do all these different things at once on a regular keyboard can mess up your race and cause you to come in at a later place than if you had anti-ghosting technology and were able to press more keys at once.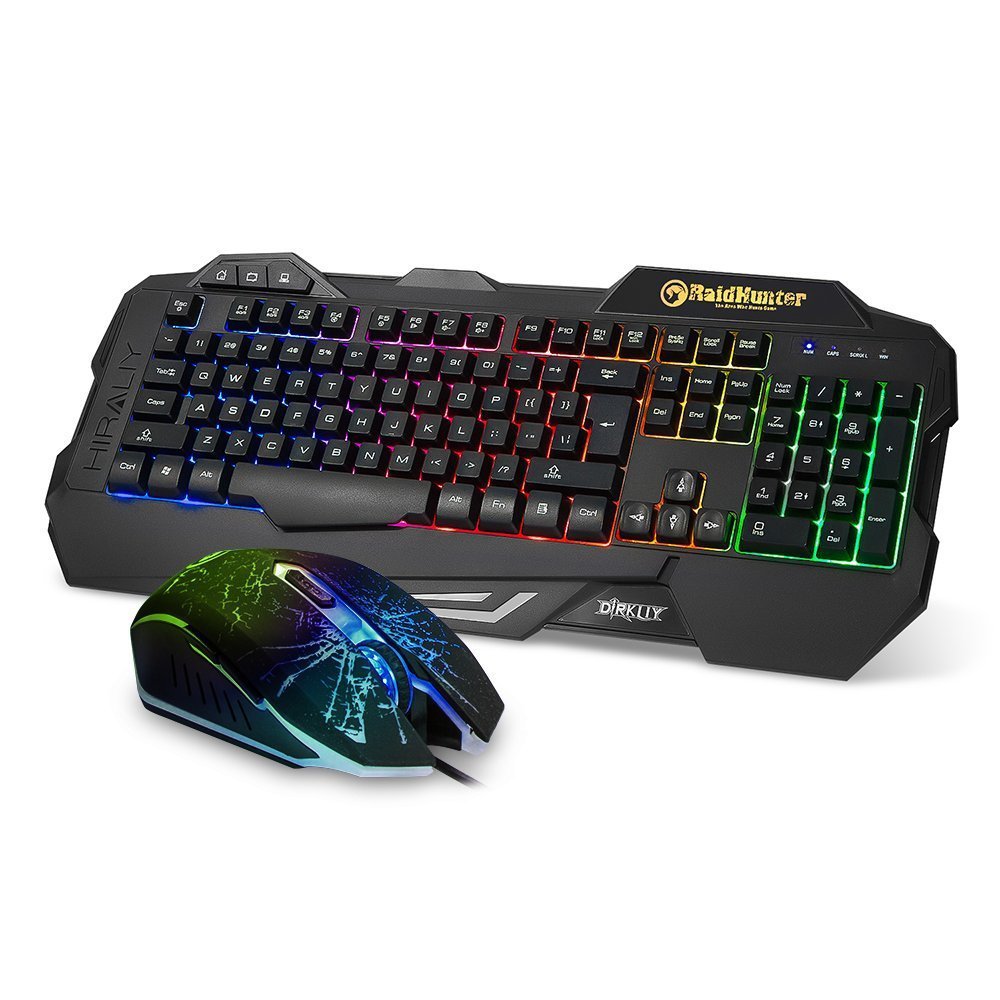 Something I am not so good at with our hopes of going off-grid, is that I leave my computer on all the time. I am trying to make a habit out of turning it off at night to save electricity, but it isn't going as well as I had hoped. The keyboard has a 10 minutes Intelligent sleep setting, so if it isn't being used regularly, it will shut off until it is needed again.
The keyboard is 18.5″ x 7.8″ x 1.18″ so it doesn't take up any more space than the keyboard that came standard with my computer did. There was no software needed to install either the keyboard or the mouse, they were plug and play ready.
They keys are a soft press, with no loud clicking when you type. That makes gamins and blogging a breeze, no finger fatigue. For a more ergonomic feel, you can pull the two feet up on the keyboard so it is at a slight angle.

As for the mouse, it has more buttons on it than I am used to. I've never used a gaming mouse before and am not entirely sure of what the extra buttons do, but the left hand side of the mouse has two buttons, on top of the regular left and right click button. It also has a scroll wheel and right below that is another button. The instructions that came with the set don't explain what they do either, so I am at a loss there. It does respond quickly to commands though, so I am able to get my healer to click on other players in need of some MP much more quickly than my regular mouse.
Both the keyboard and mouse are corded, which doesn't make them great for a PS4 gamer like my husband, since the cords would not be long enough to use where he prefers to sit. For myself though, as a PC gamer, it's not an issue. The cords are not nylon covered and I am assuming that is to keep their costs down a bit. For a set that is less than $40, I am surprised at all the features it offers, nylon cords just isn't one of them. The cord is 66″ long.
The space bar is extra wide so your thumb doesn't miss it when you are in a heated battle and need to jump out of the way. I had that issue a lot with my other keyboard, but this wider space bar helps remedy that issue.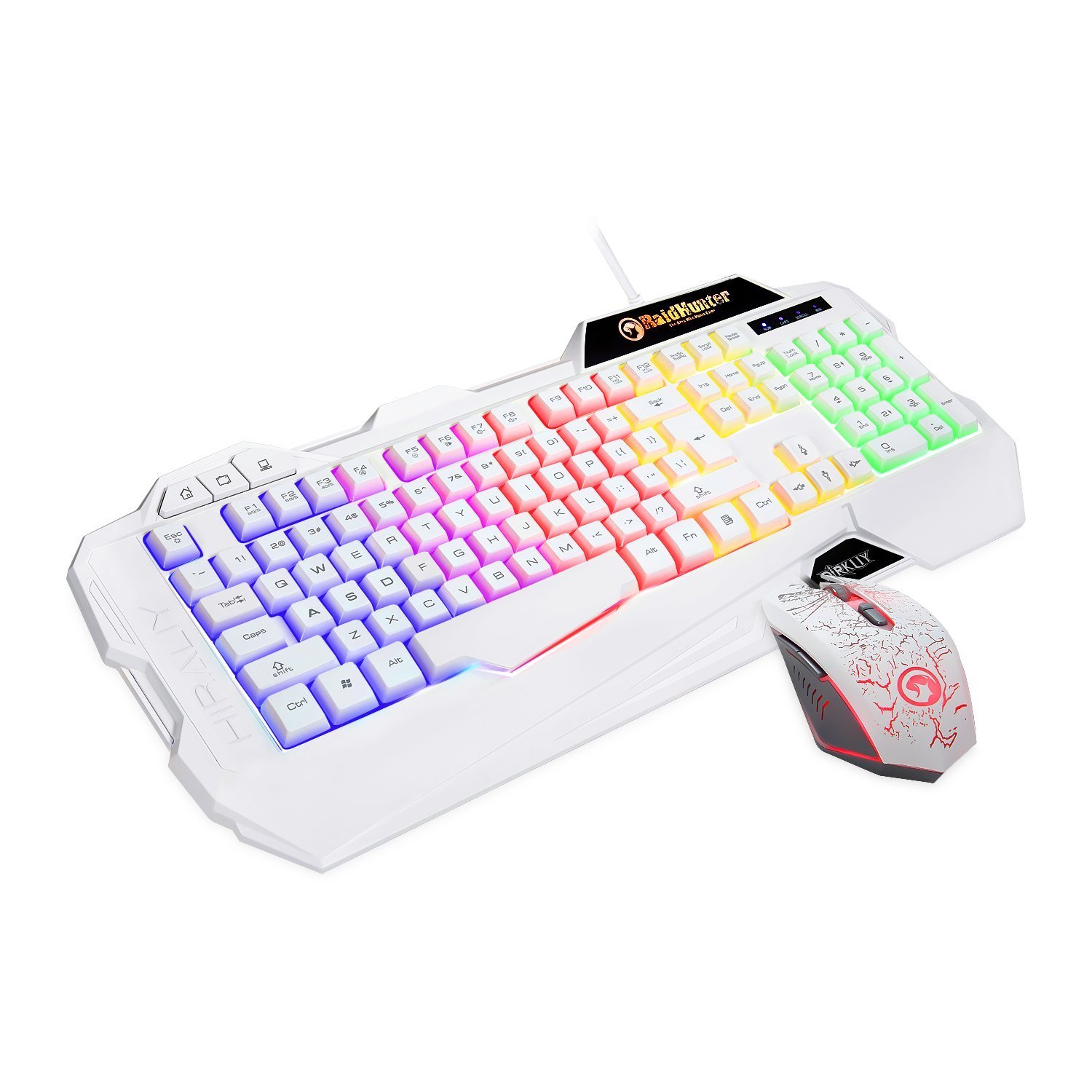 You can get this set in both black and white. I think the white is really cute, and after a while I might buy the white set and give this one to the kids for their Minecraft PC.
Overall, I am quite impressed with this set, and while there are a couple of things I would like to see for me to give it a perfect review (backlit individual keys and a nylon covered cord), I think it is great for the price they charge.