Mystery Shopping is real, but don't pay to work!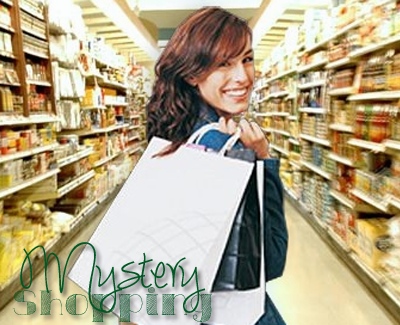 I have been Mystery Shopping for about 9 years. It is one of those not very well known "jobs" that catches a lot of slack for being a "scam". Yes, there are scams who claim to offer you Mystery Shopping jobs, if you pay an application fee and and a set up fee, or any sort of fee. The first rule of Mystery Shopping is to NEVER pay to do shops! There are plenty of legitimate companies out there that will pay you to work for them, with no fees paid by you ever. Those are the companies that you will want to work with.
A secret shopper, or mystery shopper, is a person who travels to an organization (typically a retail store outlet, bank, cafe or other such places where the public does business) for the purpose of monitoring and calculating customer support, product quality and the environment of the organization in general.
Shoppers are given details, by the mystery shopping organization accountable for the purchasing program, about objectives for making specific findings during their trips to or communications with the organization (some stores are on the internet and/or via telephone) and the customers complete reviews, often using a form on the internet, after making the organization. Shoppers provide the eyes and ears for those customers as part of their initiatives to improve the quality of the consumer experience. Many times, the information gathered during secret shopping applications is used to help organizations improve training and better communicate objectives they have of their staff and otherwise improve the ways in which the business provides its customers.
So basically, the mystery shopping company provides a service to businesses, to help improve their customer service. The businesses pay the mystery shopping company to tell them how to make their customer service better. The mystery shopping company, then pays different mystery shoppers to complete these "shops" and fill out a questionnaire.
My "go to" shops are banks and restaurants. Why? Because I have to do my banking anyway, so I might as well make a few dollars to ask some questions of the tellers. I generally get $12-$20 to do my regular banking, which means, I go in, cash a check, get some money out and get a receipt. I take notice of the name of the teller, what they look like and what they are wearing. I ask them a few questions that any average customer would ask, and I take mental note of the answers. When I go home, I will fill out the form that the Mystery Shopping company has made up, then I will fax or scan my receipts, business cards or whatever other "proof" I have that I was there, and in a couple weeks, I get a check. Mystery Shopping can be really easy and fun, but there are also some very in depth shops. I have been paid to take cars out for test drives, to eat dinner at a fancy restaurant, and even to have my oil changed!

Anyone can become a Mystery Shopper, and the better and more detailed your reports are, the better your chances are for the higher paying shops. There is a way for someone to become a "Certified Mystery Shopper" which I have done. I went through the training and received my "Silver Certification". The trianing and testing does cost money, and this is the ONLY instance where you should pay anything. Silver is offered on-line for $15 and can be taken by anyone in the world with access to a computer. The Silver Certification program is a basic skills test to ensure the person has the basic understanding of how mystery shopping workds and has the basic skills to read, comprehend and follow directions. You must be Silver Certified before you can go to Gold. The Gold Certification program is done as an online video with the rare occasion of live workshops. The cost to become Gold Certified is $75. This is done through the MSPA, and the certification is recognized by most of the Mystery Shopping companies. While being MSPA Certified is not required to work as a Mystery Shopper, I highly recommend it, especially if you have never done similar work. You can also find legitimate Mystery Shopping companies to work for through the MSPA website.
The available jobs will be dependent on your location and willingness to travel. Generally, I don't shop more than 30 minutes from my home. If I am going to the city, 4 hours away, I will for sure look through the different companies that I word with to find a job in that area, for the time I will be there. This past August, I had a shop at the Empire State Building. I was paid $50 on top of the two tickets that I had to purchase and it was an experience that I will never forget. Normally, because of how far away from my house this is, I'd not take the job, however, I was there for BlogHer anyway, and decided to make it work.
In the case of the Empire State Building Shop, I had to purchase my tickets and then put in my receipt for reimbursement. I received that, plus my pay for that shop a couple of weeks later. One shop that I have done in the past, consisted of shopping at WalMart, and buying a specific brand of mascara. In order to prove that I was at the store, the company sent me a prepaid debit card to use. It had my name on it, but other than that, was not linked to me in any way. I was not able to reload the card, and was told to cut the card up and return the pieces in a prepaid envelope. Each shop will have different requirements, different questions that need to be answered and different perks. However, as long as you are working with legitimate companies, it will be rewarding in many ways.
If you want to become a Mystery Shopper, and are interested in seeing what sort of legitimate jobs are out there, you can search for assignments in your area, and apply to Mystery Shopping companies.