Choice Collectibles MARVEL "Defenders" Lithograph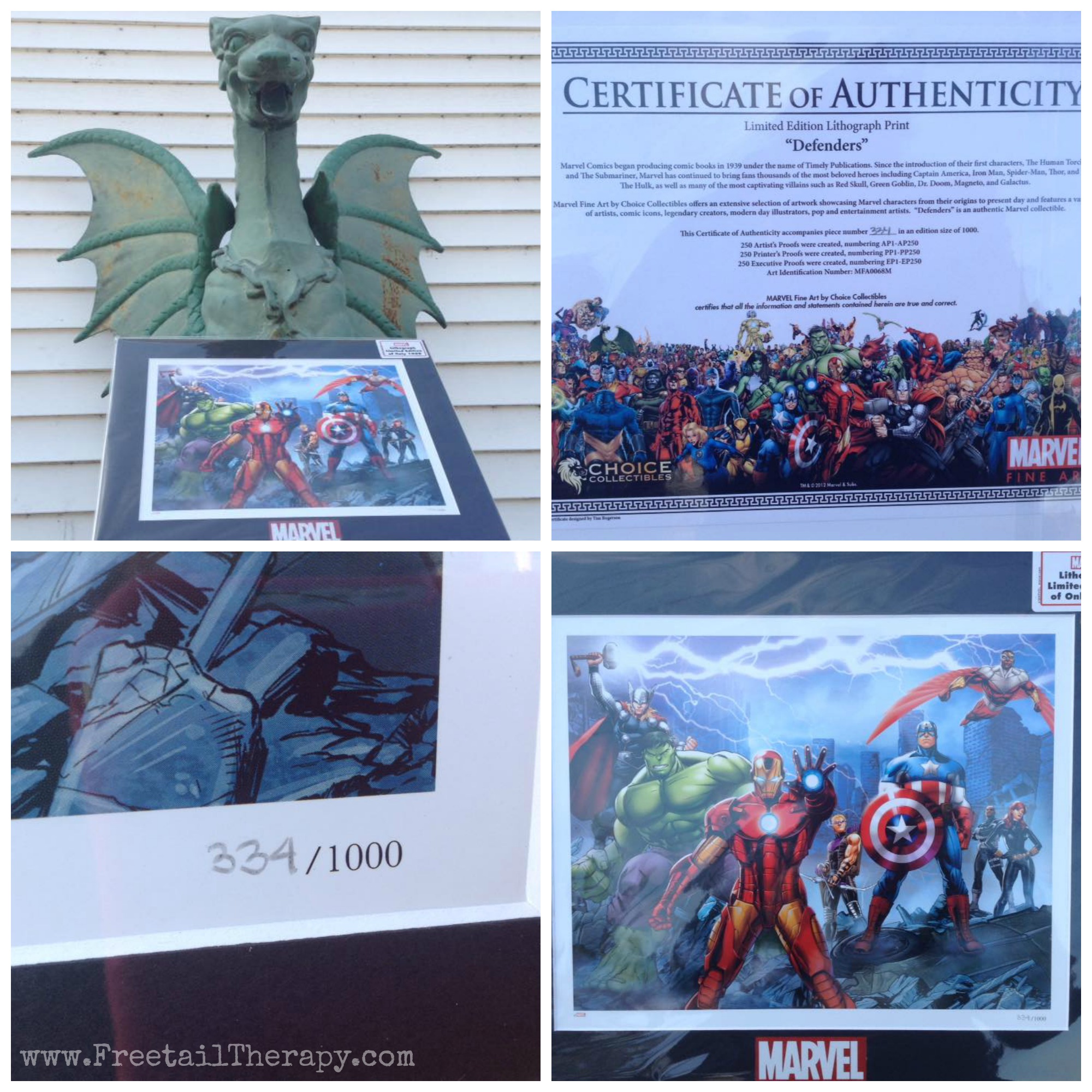 My son, Liam adores comic book characters of all kinds, but his favorite is Batman, followed closely by Ironman. Choice Collectibles sent me one of their Limited Edition Lithographs for him to review and hang in his room. It has his favorite Marvel character right up front, he screamed with delight when he saw it!
Choice Collectibles is a premier provider of animation, limited edition and out-of-print fine art. One of Choice's marquee components is its extensive partnership with Marvel; the makers of Iron Man, Captain America, The Hulk and many more.
Created by Marvel staff artists, "Defenders" is inspired by the famous live action scene where the Avengers battle the villains in the city rubble. The Rubble Rousers crew features the characters: Thor, Hulk, Iron Man, Hawkeye, Captain America, Falcon, Nick Furry and Black Widow. This limited edition 14″x17″ lithograph on paper is matted and ready to frame. It also comes with a Certificate of Authenticity on the reverse side.
We have yet to get a nice frame for it, so it is still in my room to avoid damage to it, but as soon as we find a suitable frame for it, we will be hanging it on Liam's wall for him. In the meantime, he asks to look at it every morning when he wakes up. He starts his day with a smile knowing that only 1,000 people in the world have this piece of art, and he is one of them! We received #334/1,000 and that's pretty cool to think about.

This particular piece of art is valued at $50, though they have all sorts of different awesome pieces of all price points. Choice collectibles isn't just Marvel though, they also have art from DC Comics, Disney, Hanna-Barbera, Warner Brothers and more!
Photo Credit: Choice Collectibles
This is one of the Batman pieces they have listed, "History of Batman" which is created and signed by Alex Ross, with an MSRP of $975. It's my favorite of the Batman artwork on the site, though there are quite a few others that come close to being just as awesome. Boy, would Liam LOVE to see that on his wall!
Overall, we adore "Defenders" and can't wait to get it tucked away safely in a frame, and hung on Liam's bedroom wall.
Enter to win!