Review: Mia Mariu Mineral Cosmetics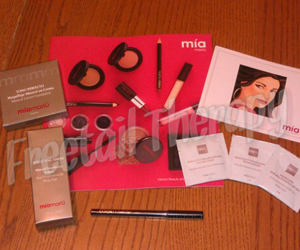 Mia Mariu offered this Eco-Friendly blogger the chance to try out their line of natural mineral makeup, and I couldn't pass up that chance! I received their Perfecting Finish Mineral Cream Foundation in "Vanilla", Perfecting Finish Mineral Primer and Intense Eye Liner in "Black".
I don't normally wear more than some eye makeup and lipgloss, because I can't stand the feeling of most makeup. It blocks my pores, and my skin can't breathe. It really isn't a pleasant feeling, I usually end up with a red blotchy face, which is itchy and feverishly warm. Yes, I have sensitive skin. I can't stand it, because on top of the sensitivity, I also have combination skin; oily in some spots, super dry in others. Nothing I have tried has ever been able to even it out. Unfortunately, the same goes for Mia Mariu, with the exception of the sensitivity. I didn't end up with itchy, red skin, but I did feel it on my skin. It really doesn't take much for me though, I can feel the eyeshadow I wear on a daily basis. I don't cake my makeup on, I keep it light, but I can still feel that it is there. With that being said, I continue to try different brands, in hopes of someday hitting the one that will work for me.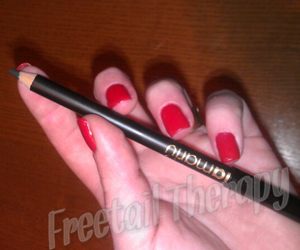 Eyeliners are a "must have" for me, and I struggle to find one that is what I look for, while still being a good price. I usually end up with eye liners that I got free with coupons, but can never seem to get ones that work. I can't use eyeliners that are stiff, or need a lot of pressure to go on. I like my eyeliner to go on like a gel, or cream  while still having the firmness of a pencil; I don't like to use liquid eyeliner. This Intense Eye Liner was PERFECT! It went on in 1 swipe, so I didn't have to rub it back and forth on my eyes. After applying it to both eyes, it still held its form, so I wasn't required to sharpen it, or reshape the tip in between applications. I have naturally blonde hair, which means blonde eyelashes as well. I have an issue with my mascara if I don't use a good eyeliner, because there is always a blonde line at the roots, and it looks pretty bad. For this reason, I like to use my eyeliner at the roots of my lashes as well, and this worked great for that purpose.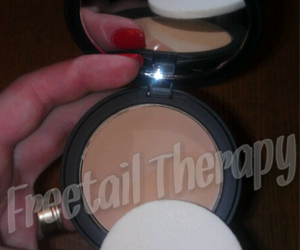 The Perfecting Finish Mineral Cream Foundation in "Vanilla" arrived with a plastic piece in between the applicator and the foundation. There was no tab sticking up on the side, it was closely fitted to the inside of the circle. This made it hard to remove it without damaging the makeup. I tried to remove it without damage, but I did mess it up anyway, and ended up with a chunk missing from the top of the compact.

You can see where I had to dig my nail in a bit to get the plastic piece out.
The foundation did have nice coverage, and it did hide most of my blemishes, but I was able to feel it on my face, and that is not a feeling that I like. Again, it didn't cause a rash, so that is a plus for me, but I don't think I could get used to the feeling of the tightness and cakey residue it left on my skin, so I don't think I will be using it on a regular basis.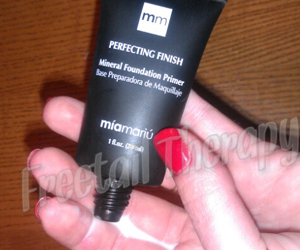 The Perfecting Primer was fantastic! It was light and made my face feel healthier and seemed to even out my combination skin. The problem came when I applied the foundation over it, so I may just stick to using the primer alone. As an additional layer between skin and the foundation, primer makeup fixes less than perfect skin and can minimize fine lines. Completed makeup lasts longer, and does not streak or melt into the pores, so a primer is a great to have on hand, whether you plan to put something over it or not.
I didn't need a whole lot to cover my face. What you see in the picture above is all that I needed for full coverage; it was less than a dime size, but ran down my fingers in the picture. It isn't overly thick, but not watery thin either.