Manicure of the Week – L.A. Colors in Mint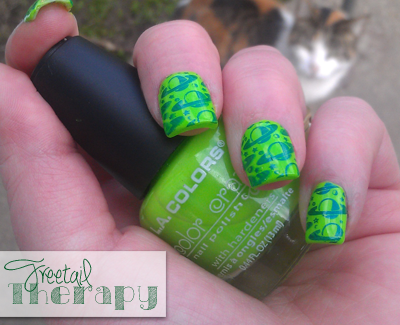 It was a bit of a down day for me, so I needed a little "pick-me-up" and decided to run to the Dollar General around the corner and grab a new polish. I just wanted something cute, but not expensive. This L.A. Colors was only $1 and it is a beautiful neon green, although they call it "Mint", which makes no sense to me, because that is not "mint" in my mind, lol.
I stamped with Saturn, from the 2012 Cheeky Plate Set in "Blue It" from Sally Hansen Xtreme Wear, and topped it with Seche Vite.

Also, say hi to one of my kitties. Her name is Lelah, and hates people younger than 30….I'm 28.