Fresh Homemade Meals| Funding| Garden |Lasagna Love|Pantry|Library
We have various needs depending on the time of year, and are always open to accepting help with our community projects. I will update this page the best I can, as time allows. Items purchased from our Amazon Registry will be delivered directly to us, without you entering an address. You are welcome to order from anywhere and have it shipped or drop off contributions at your convenience.
Fresh Homemade Meals
MEAT! Ground burger and chicken tend to be my most used meat, but I will make anything work.
Canned tomato products, any kind: crushed, diced, sliced, stewed, sauce, paste… anything!
Cheeses: mozzarella, ricotta, cottage cheese, cream cheese.
Eggs: We have chickens, but there's not enough supply to keep up with demand.
Canned veggies: spinach, corn, and green beans are my most used.
Canned Fruits
Disposable pans
Aluminum foil
Saran wrap
Ziploc bags
Paper bags
Plastic utensils
Bottled water or other single serve drinks
If you would like to prepare a meal, please sign up on our Meal Train.
Garden
Seeds – We offer a seed sharing box, and accept all types of seeds to share.
Cinder Blocks – We hope to open the new community garden for the Spring. We need approximately 600 blocks to complete this expansion.
Empty Cat Litter Pails – We use these to give away food bearing plants to people wanting to start a small container garden at their home. Any food grade buckets of 3 gallons or larger.
275+ Gallon IBC Tote – With the garden expansion comes more need for water storage. This will upgrade us from 55 gallon barrels, at which time these barrels will be placed at the community garden.
Clean one gallon milk/water jugs with lids.
Lasagna Love
Tin Foil
Lasagna pans – Both reusable and disposable pans are appreciated. Reusable pans may be used or new, but must have no chips or cracks.
Lasagna Carrying Case – A double decker would be perfect for transport.
Grocery Store Gift Cards for ingredients: Horrocks, Aldi, Walmart, Target, Family Fare, Meijer, Dollar Tree and Dollar General are all available in Battle Creek.
Library
Books in good condition, for all ages.
Bricks of various sizes – These will be painted to look like books as decor around the library.
No Magazines, Pamphlets, Business Advertising or Religious Materials please.
Pantry
Pop-top canned goods: Meals, like Spaghetti O's and similar, are in high demand.
Bottled Water
Single Serve Snacks
Cereal
Shelf-Stable Milk
Any unexpired non-perishable foods you have to offer
Household cleaners and detergents
Toilet Paper
Wrapped restaurant/take-out utensils
Cooking oils
Canned Fuel – These can regularly be found in the wedding section at Dollar Tree
Socks
Funding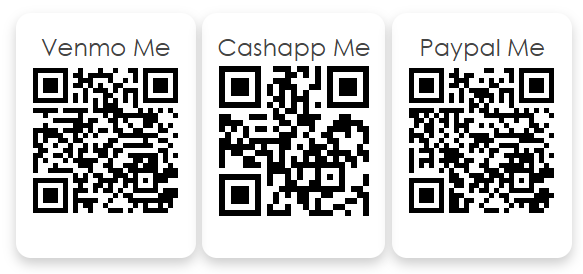 Venmo @Willowkarr |CashApp $Willowkarr |PayPal @freetailtherapy