The Ultimate Single Serve Hot Cocoa Experience – Tootsie Roll K-Cups!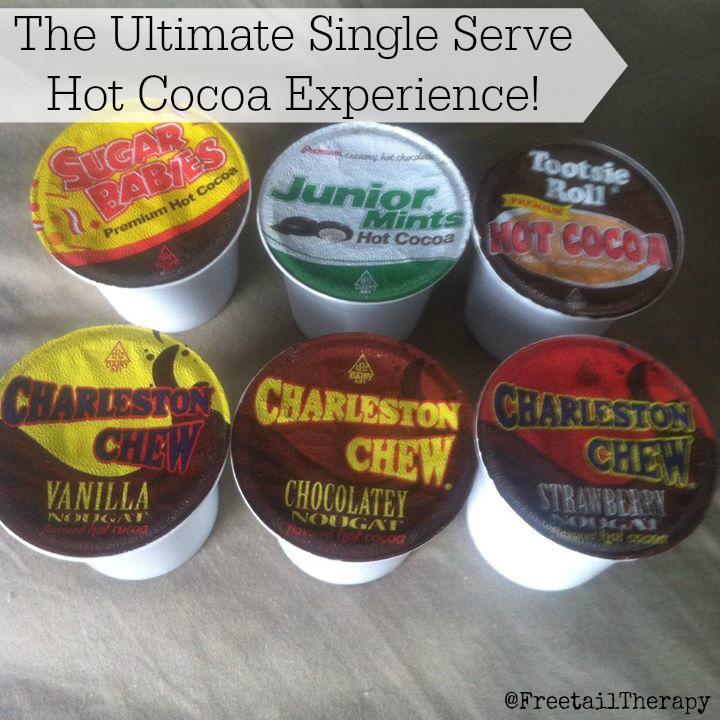 As America's favorite chewy chocolate candy, the Tootsie Roll has remained unchanged since it was first introduced in New York City in 1896. Now, you can enjoy the perfectly balanced cocoa taste, lined with subtle fruit-flavored undertones, as a steaming hot cups of delicious hot cocoa.
Two Rivers Coffee sent me a 40 pack of these Tootsie Roll hot chocolate k-cups to review. The flavors that were included are: Sugar Babies, Junior Mints, Tootsie Roll, and three different Charleston Chews; Chocolate, Vanilla and Strawberry. I wanted to try them ALL and FAST! So of course, I enlisted my kids to help me. With 6 kids, it was easy to get all of the flavors tested right away! I made them a cup and took a sip before handing them over and I discovered that they were all true to their candy flavors.

I do admit that, while they were all fantastic, I definitely had a favorite of the bunch. I like my hot chocolate to be VERY chocolatey, so when I make it, I normally add twice the powder that is called for, or when I make k-cups, I cut down the water by 50%. In this case, to get an accurate taste test, I used 8 ounces of water instead of 4. The one that was the most "chocolatey" was the one with "chocolatey" in it's name: Charleston Chew Chocolatey! I did expect the Tootsie Roll to have a more dense chocolate flavor, but Charleston Chew won that spot easily!
The Junior Mints was a fun one though, you could smell the mint right away, but when you took a sip, there was no mint. If you waited a couple seconds before taking another sip, the mint showed itself, and well! That first sip doesn't seem like anything spectacular, but every sip after that was dead on! The Charleston Chew Strawberry, on the other hand, had a hint of strawberry from the very first sip.
This cocoa pack is NOT COMPATIBLE with Keurig 2.0 machines, because Keurig has locked out any unlicensed coffee pods. Since Keurig makes most of its money off of the k-cups that you have to buy over and over, and not from their machines, they have made it so that only companies who pay for the license will be able to have their k-cups used with the newer machines. However, there is a bit of a fix for this. You can order a FREE Freedom Clip, which pops right into your 2.0 Keurig and allows you to use any k-cup brand that you want!