Organizational Skills go along with Budgeting!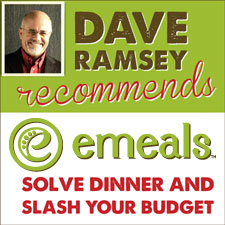 My New Year's Resolution is to increase my credit score, and I am proud to say that it has gone up 15 points since the last post, so YAY ME! With this, I feel that I have to get back to FlyLady, and become organized once again. With less clutter around me, the more clear my mind is, which gives me more room in there to think of ways to improve my finances. It is all connected!
In my Control Journal, FlyLady tells me to create a menu plan in advance, because planning ahead of time makes shopping easier, which saves time, and money. Time, because of the obvious lack of running back and forth to the store, and money, because if you have a plan, you are less apt to impulse buy, which I am known for! The thing that always tripped me up with menu planning was coming up with new and interesting meals for my family to eat. I didn't like seeing the same things over and over on my plans….even if we really had no problem eating a certain meal three times a week, it was painful to look at in my control journal. Yea, I am odd like that!
Well, I learned about emeals, and immediately signed up for an account! Premade meal plans, recipes and grocery shopping lists for each plan for less than $5 per week! Yep, I have a 1 year plan now, and I think it is totally worth it! Just over $1 per week to avoid the hassle of having to come up with recipes on my own? I am IN!
What makes me even more excited about this, is that Dave Ramsey recommends emeals, so you KNOW it is a frugal and financially sound decision. I have the Dave Ramsey Financial Peace University and will be looking through all of the pieces in a couple of days (after family holiday craziness dies down) and plan to implement it starting on the 1st of the year. I know his program will help me get to where I want to be.
Are you wanting to get your family on a budget this year? Use this simple budget form to get the process started. Fail to plan, plan to fail!
With the help of Dave Ramsey, FlyLady, and now emeals, I am SURE I will make my New Year's Resolution of increasing my credit score possible. I think that blogging about it, and putting everything out in the open will also help keep me motivated to succeed. I love helping others, and if I am able to help you at the same time that I can help my family, then it is a win-win in my book.
I am going to share one of the recipes that is in this week's meal plan for me. It sounds so yummy, and I can't wait to try it!
Beefy Green Chile Enchiladas
Author:
Ingredients
1.5 lbs ground beef
1¼ oz pkg taco seasoning
4 oz chopped green chiles, divided
2 – 10¾ oz cans cream of chicken soup
16 oz sour cream
Flour tortillas
8 oz shredded Cheddar cheese
16 oz bag frozen corn, thawed
(4 T butter, 3 T honey, salt, pepper)
⅓ c cream
15 oz can black beans
Instructions
Brown ground beef; drain. Stir in taco seasoning and half of
green chiles; set aside. Stir together remaining green chiles, soup
and sour cream. Pour half of soup mix into lightly greased 9 x 13"
dish. Spoon beef mix down centers of tortillas; roll and place, seam
side down, in baking dish. Top evenly with remaining soup mix and
cheese. Bake @350°for 25 min.
Melt butter in large skillet. When foamy, add corn. Cook and stir
min. Add honey; cook 2 min. Increase heat to high; add cream,
stirring constantly. Add salt & pepper to taste. Cook until most of
cream has absorbed – about 5 min. Serve hot alongside warmed
black beans
Oh, I almost forgot to mention that you can use the discount code 2013 to save 15% off your emeals subscription, this will bring it down to about $4 per month!