Manicure of the Week – Sally Hansen Hard as Nails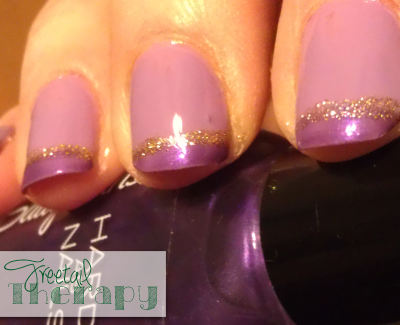 Not my best picture ever, but the lighting just was not working. ANYWAY, you may have read about the awesome deal going on at Family Dollar on the Sally Hansen Hard as Nails polishes. I decided to stock up while the price was so low, and used two of them in this manicure.
I did 3 thin coats of No Hard Feelings, then stripped the tips with Rock Bottom and finished it off by adding a thin stripe of Butter London West End Wonderland. I am still really loving Seche Vite Top Coat, so that went over everything, and I was on my way, ready for the day.
Still eagerly awaiting my acrylic powder and brushes, I kinda want my pretty nails back.