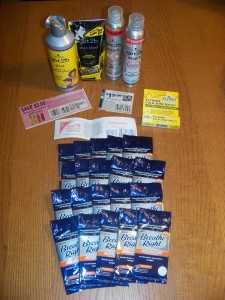 Didn't find what you were looking for? Search our site!
Not as good as I was hoping. I have 100 of the Breathe Right coupons ($1.50/12 ct or smaller) and was hoping to score some nice overage at WalMart, but they didn't have any. BUMMER! I'm going to check a different WalMart this weekend.
So, I went to Walgreens, they didn't have them either, but I had 5 of the $3/1 got2b coupons, so I used 4 of those ($5.99 BOGO) and got them for free. I also got the cold sore medicine (OMG we go through so much cold sore stuff here….my oldest son gets them all the time, poor kid!) which was $5 with $5 RR back. Total including tax was $5.96 and I got the $5 RR back, so I paid 96c.
I still wanted to find the Breathe Right Strips though, cause I use them at least twice a week to sleep. I found 20 of them at CVS, they were 99c each. Total came to $19.80 (no tax) and since they don't allow overage at CVS, I gave the cashier 13 coupons (if I were at WalMart, I would have handed over 20 of them) which took $19.50 off and I paid 30c for them.
Total trip OOP $1.26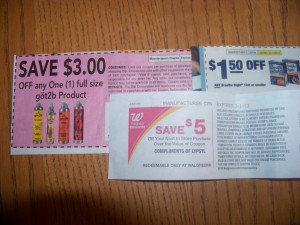 I have more got2b coupons coming from The Coupon Clippers and Coupon DeDe, they should be in today, so I can go back for more. My Walgreens is STOCKED full! YAY!