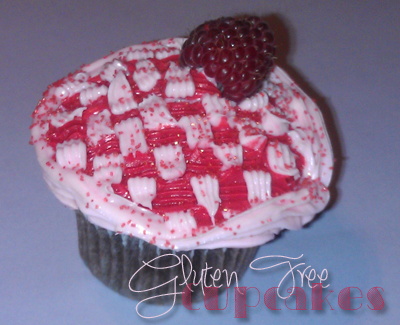 I found this original recipe on Martha Stewart's site, but it was laden with gluten, and I wanted a healthier junk food, so I altered the recipe to be gluten free.

Recipe: Gluten Free Chocolate Cupcakes
Ingredients
1½ cups sugar
1½ teaspoons baking soda
¾ teaspoon baking powder
¾ teaspoon salt
2 large eggs
¾ cup warm water
¾ cup buttermilk
3 tablespoons safflower oil
Instructions
Preheat oven to 350 degrees. Line cupcake tins with paper liners; set aside. Sift together Raw Organic Gluten Free Cacao Powder, All-Purpose Gluten-Free Baking Flour, sugar, baking soda, baking powder, and salt into a large bowl. Add eggs, warm water, buttermilk, oil, and Nielsen Massey, Madagascar Bourbon Pure Vanilla Extract, and mix until smooth.
Divide batter evenly among cupcake cups, filling each about ⅔ full. Bake until tops spring back when touched, or about 20 minutes. Transfer to a wire rack; let cool completely, then frost.