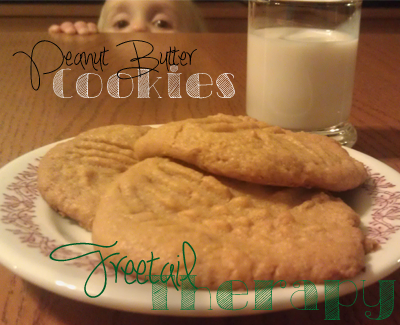 Didn't find what you were looking for? Search our site!
Recipe: Easy Peanut Butter Cookies
These cookies end up being SUPER easy to make, and they are always moist and soft.
Serves:
8 (2 cookies each)
Ingredients
1 Egg
1 Cup of Sugar
1 cup of Peanut Butter
2 table spoons of light brown sugar
Instructions
Pre-heat the oven to 375°F
Place all ingredients into a medium to large mixing bowl, and mix with a spatula (or your hands if you are me) until evenly combined.
Spray your cookie sheet down with cooking spray or lightly grease with butter.
Take small amounts of the peanut butter cookie dough out and roll into balls about the size of quarter, then space them out evenly on your cookie sheet.
Take a fork and press down into the dough balls to create a cris cross and your ball is formed into a flat cookie.
Bake for 10 minutes
Allow cookies to cool before devouring!