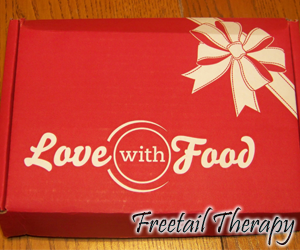 Didn't find what you were looking for? Search our site!
I scored a free box of Love With Food in October, and figured I'd show you what came in it. They are offering a FREE box again this month, so don't miss out! You will have to pay $2 for shipping, but you will see that it is TOTALLY worth it
To get your box for FREE, head over and use code: FBGIFT
The regular price of the boxes are $10, so you are getting some great samples, PLUS you are donating a meal to someone in need! It really is a win-win! They still give the free meals if you order your box for free though, so make sure you do this! It is a worthy cause, and you get some nice goodies as well. You can cancel your subscription at any time, so if you only want the first box, just cancel as soon as it arrives and you won't be charged for anything else.