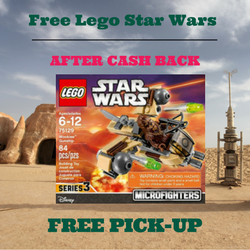 Doesn't matter what age you are, Star Wars fans come in all ages. The story has been captivating audiences for nearly four decades. Today's freebie is for the fan in your family. We have for you today a 84 piece Lego Star Wars set for free plus free in-store pick-up!
Toys R Us is selling a Lego Star Wars Microfighters Wookiee Gunship set for $9.49. TopCashback's offering $9.99 cashback on the purchase of one box, effectively making this space opera toy free. Do you think your fans might like this?
Please note only NEW TopCashback members are eligible for this promotion; existing members are welcome to introduce friends and family to TopCashback.