46 Flares
Tweet
Email to a friend
46 Flares
×
Head on over to Gerber to grab your FREE Safety kit! They will also send you a quote for life insurance. No CC or payment info needed, all you have to do is fill out the first two pages to get the FREE kit.
I have found that I get more Gerber food coupons in the mail since requesting my kit, so it is worth a check! My kids no longer eat baby food, but it makes for donating to the local food banks a bit easier. Many food banks get lots of canned goods and good "adult" foods, and babies are left out, or only have formula, so I try to focus on jarred food when I donate, because I know it is in high demand.
I do find the Safety Kit to be useful too. We take the kids fingerprints every year along with an updated pic and a lock of hair, and put it all together with kits like this in our safe. You can never be too prepared.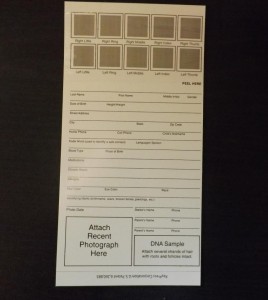 Freetailer Kate shared part of her FREE Kit on our facebook page! Thanks Kate!
UPDATE: Some people were emailing me saying "It isn't free, I have to pay something!" I want to show you guys the screen shots, because you should not be getting charged for this.
Page 1, complete the info here.

Page 2, Fill out all fields.

Page 3, NOT REQUIRED! You don't need to enter ANYTHING here, unless you want to purchase Insurance, but it is not required to get your Safety Kit. Don't close your page just yet though!

You should get an email shortly after requesting your freebie. Once you get this email, feel free to close out Page 3, without adding payment info.

Didn't find what you were looking for? Search our site!
46 Flares
Tweet
Email to a friend
46 Flares
×