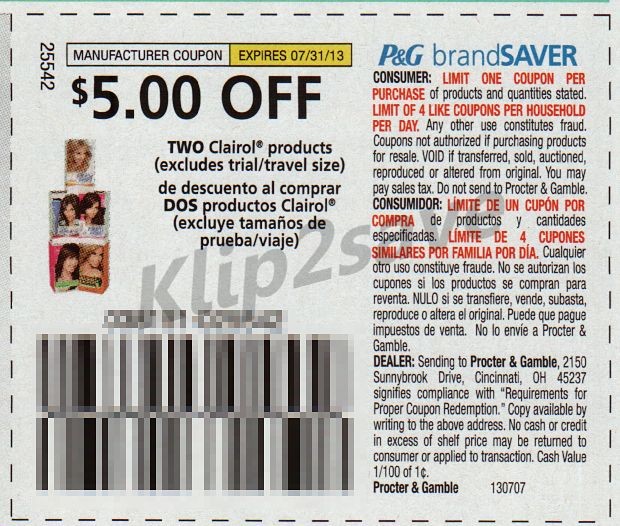 Didn't find what you were looking for? Search our site!
The coupon in today's P&G Brand Saver says $5 off any two Clairol products. They exclude travel and trial sized items, and since there is no such thing as a trial or travel sized hair color, this lead many people, including myself, to believe that you could use this coupon on Herbal Essences, since they are made by Clairol. According to the wording on the coupon, legally, you can do this, but it has been clarified by Clairol, that it is only meant for the hair color.
Can you use the $5/2 Clairol coupon on Herbal Essences?
Yes, if you read the whole thing, it says you are welcome to "try it", but they didn't promise that the stores would be reimbursed if used on things other than the hair color. Also, this was a statement put out by the social media team at midnight, on a weekend, so we have no idea how accurate that is, and may not know until tomorrow at the earliest, when their legal department comes in.
Legally, you can use the coupon, but ethically? Well, everyone's ethics are different. I had planned on using the coupon for some shampoo and body wash, until I read the statement on their facebook page. Someone clearly messed up in the coupon department at P&G, which in and of itself is strange, because they are usually meticulous about how they word their coupons.
I had bought some of these coupons from a clipping service, who has since removed them from their site to avoid coupon fraud. I applaud them for that. They are still sending my coupons, I had a choice to cancel my order and get a refund, but I decided to get my coupons instead. However, I will not be using them on the Herbal Essences products unless Clairol says that stores will be reimbursed. My plan was to donate all of the items to a local Food Bank, who would love to be able to give out shampoos, conditioners and body washes, however, now they will be receiving hair color. I know that they offer classes and "like new" clothing to help people with job interviews, and I am sure that there are some people in the job program who would love a new, fresh color. At least I will still be able to help out. Now, I have to scout out some good hair color deals!
UPDATE 7/7/13: The latest statement from Clairol is far more clear than the last, yet still not an "official" word on the call.

Either way, it just means more strict coupon wording, and a guarantee that amounts will be lower in the future. I'll update you again when an official decision has been made.
UPDATE 7/8/13: Today, Clairol came out with the following statement.

I still stick to my comment about more strict coupon wording in the future, as well as lower values, but the good news is that stores WILL be reimbursed for this coupon when used on Herbal Essences products. HOWEVER, please do not disregard the next phrase in that comment: "However, we hope that our original intent of offering $5 off any 2 Clairol hair color products is recognized, so  that we can continue to provide value offers in the future." AKA, use it on the hair color or feel the wrath of lower value coupons in the future.