Didn't find what you were looking for? Search our site!
One of my favorite blogs asked the question "What time is bed time at your house?" I was amazed at some of the answers I saw.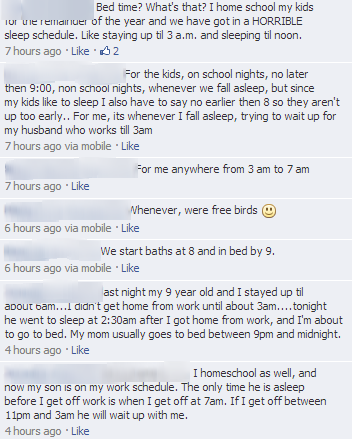 Jodi: I am a firm believer in regular sleep cycles. I have seen the damage it does to kids if they go to bed whenever they damn well please. Bed time is strictly 8pm here. They have to be up at 6am for school, so sending them to bed at 8pm, means they will fall asleep between 8:15 and 8:30. Because we have always stuck to sleep routines, they sleep through the night and get enough sleep to make it through the school day without dragging. Thinking in terms of my kids health, I would never let them stay up to 10pm, 11pm, or Gods forbid 3am on a regular basis.

Do I allow it for special occasions? Yep! New Years, I tell them they HAVE to stay up til midnight….they have not made it once yet.  I allow late nights for camp outs, but this is mostly because the morning weather can be cold, and I think it is beneficial to sleep through that if you can. We don't do sleepovers…or haven't yet. My kids are 13, 10, 7, 5, 4 and 2.
Savanah: At our house, bedtime is 8pm for the younger 3 and the oldest goes to bed about an hour later.  They share a room and the oldest has Delayed Sleep Phase Syndrome, so putting all four to bed at the same time causes some issues.  We homeschool, so seeing that used as an excuse for no bedtime routine really irritated me. A regular routine is important for all children.  As for those that mentioned letting their school-age children stay up late to finish homework, maybe they need to analyze the rest of their routine.  Children need a certain amount of sleep in order to be healthy and for their minds to function properly.
How much sleep do your children need?
This graph from The National Sleep Foundation shows the guidelines they recommend. However, if you've been short on sleep for a few days they recommend sleeping an extra hour or two for a few nights and then resuming your normal sleep habits.
What happens if you don't get enough sleep?
Not getting enough sleep impairs your attention, alertness concentration, reasoning, and problem solving abilities.  If children do not get enough sleep, their ability to retain information and even pay attention during class suffers. Not only does lack of sleep have immediate consequences, it also affects your health. Many heart conditions are aggravated and sometimes caused by chronic sleep loss, as a high blood pressure, stroke, diabetes, obesity, and increased signs of aging.
Does a late bedtime on the weekend matter?
Simply put, yes.  Irregular sleep patterns have been linked to an increase risk of diabetes, decreased metabolism, and decreased immune support even when the correct amount of sleep is achieved.  It can also contribute to lower levels of serotonin, which is associated with many health problems.
If you are having trouble with your children refusing to go to bed, we both firmly believe in having a consistent bedtime routine.  Children thrive with defined boundaries and repetition.  By starting your bedtime routine at the same time every day, even on weekends, your children will quickly adjust and bedtime will no longer be a hassle.  If you fall away from your routine for whatever reason, it is best to get everyone back into the swing of things as quickly as possible.