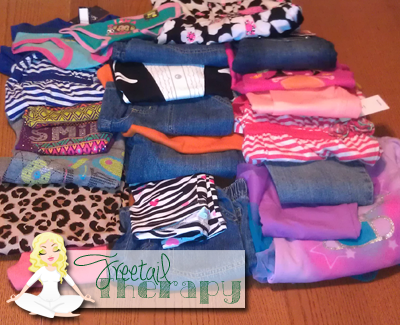 Before sales and coupons the total would have been $391.66! NO WAY! Not THIS mama!
Before we went to the store, I bought some $10 Kohl's coupons from eBay. I got a pack of 10 coupons for $3.45 and they arrived within minutes for me to print. The coupons are limited to 1 per person, so everyone plus my mom had to go shopping. We had 1 coupon left and gave it to a random person in the store, so that made their day!
With 6 kids, clothes shopping can be pricey, but when you shop the clearance rack, it helps a lot! I found enough items to reach just over the $10 for each coupon and handed those items to each person. We all checked out separately to go by the terms on the coupon and each paid less than $4 for their order. I managed to get 1 order at 18¢ after coupon!
My 3 year old got 3 outfits, and a pair of pants, as well as a shirt (they don't match the pants though). My 4 year old got 1 outfit and a shirt. My 6 year old got 3 outfits, plus a pair of pants and a pair of underwear. My 8 year old scored a dress, a pair of jeans and a pair of underwear. We didn't get anything for the oldest two, since by the time we made it to those sale racks, we had allocated all of our coupons already. That's ok, next time!
I also had a $5 Kohl's Gift Card that I got for free from InstaGC!
Grand total after the clearance prices, coupons and free gift card was……….$11.42! That is a 97% savings! We're definitely not done with school shopping, but this is a pretty good start!